Loki Season 2 Episode 3 Release Date, Time, Trailer, and Plot for the Marvel Show
The fate of the multiverse gets all the more dire in Episode 3.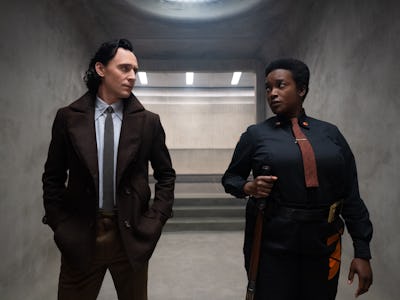 Marvel Studios
Loki might be the most important series in Marvel's Cinematic Universe. So many of Season 1's ideas laid the groundwork for the franchise's Multiverse Saga, and now Season 2 is picking those concepts apart. Its first two episodes dove deep into the consequences of having a multiverse, and as the God of Mischief (Tom Hiddleston) works to undo the chaos he and Sylvie (Sophia Di Martino) unleashed, things are only getting messier.
As stressful as that will be for our heroes, it's endlessly entertaining for us, as the aggressive pace has been a refreshing change from Marvel's more meandering Disney+ shows. Episode 2 even sowed the seeds for a battle within the TVA, and it's safe to assume Episode 3 will deliver just as many thrills this week.
What is the Loki Season 2 Episode 3 release date?
New episodes of Loki Season 2 air weekly on Thursdays. Episode 2 hits Disney+ on Thursday, October 19.
What time does Loki Season 2 Episode 3 premiere?
Loki Episode 3 will be available to stream at 6:00 p.m. PST, or 9:00 p.m. EST. Like Star Wars sister series Ahsoka, Loki is trying a new time slot for Season 2. This primetime release window takes cues from "appointment viewing" series like Succession and Game of Thrones, and it may become the new Disney+ standard moving forward.
Is there a trailer for Loki Episode 3?
Loki hasn't received any episode-specific trailers, but Marvel has treated fans to a reel of Loki's greatest hits leading up to Season 2. Check it out below.
What will happen in Loki Episode 3?
Loki and his allies faced off with rogue TVA agents in Loki Episode 2. Though Loki, Sylvie (Sophia Di Martino), and Agent Mobius (Owen Wilson) succeeded in defeating the loyalists, they couldn't stop them from pruning many of the multiverse's timelines. Episode 3 will likely see them dealing with the fallout of that destruction.
How many episodes will Loki Season 2 have?
Like Season 1, Loki Season 2 will run for six episodes. Episode 3 puts the season at the halfway mark, but unlike many Marvel series, Loki is making great use of such a short amount of time.
Will there be a Loki Season 3?
So far, there's been no word on a third season. Loki was the first Marvel show to get a second season on Disney+, so anything is possible for the God of Mischief. Producer Kevin Wright spoke to Inverse about the chances of Loki's story continuing: even if it's not with Season 3, Wright may just be fighting for a spin-off or two in the future. In any case, the events of Loki will inform the future of the MCU, so we could see these characters popping up in other Marvel projects down the line.
Loki Season 2 streams Thursdays on Disney+.