Good Omens Season 2 Trailer Reveals How The Story Continues After Apocalypse
The first season adapted the whole first book. What's next?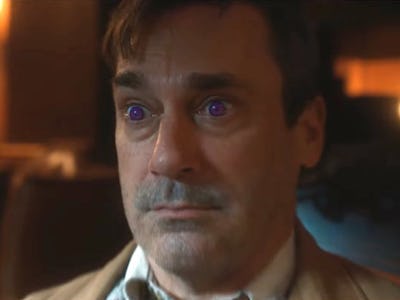 Prime Video
Good Omens Season 1 ended on a bang. In fact, it's about the biggest end you could imagine for a season of television: the literal apocalypse, horsemen and all. But now that the show has finished adapting the book by Neil Gaiman and Terry Pratchett, the series is evolving in its second season, and that means a complete gear shift in terms of story conflict — and genre.
In the Season 2 trailer for the next season arriving July 28 on Prime Video, we finally get a glimpse of what Aziraphale (Michael Sheen) and Crowley (David Tennant) are up to next — and it revolves around Jon Hamm's Archangel Gabriel.
In the trailer, something is afoot in heaven: the Archangel Gabriel (Jon Hamm) is missing. Heaven sends Muriel (Quelin Sepulveda) to investigate the "traitor" Aziraphale's bookstore, and while she doesn't see anything suspicious, as soon as she leaves, a toga-clad Gabriel emerges. Watch the full trailer below.
It looks like Season 2 will revolve not around a prophesied birth and the end of the world, but a mystery that's confounding even Heaven and Hell: Archangel Gabriel is being harbored in Aziraphale's shop, and he has no memory of what happened to him.
It's the perfect next step for the series. After Season 1 established the uneasy connection between Aziraphale and Crowley, Season 2 will pit them against both their homeworlds and set them on a course to investigate a mystery.
It also looks like we'll see some new characters — with some familiar faces. At New York Comic-Con, actresses Nina Sosanya and Maggie Service (who played satanic nuns in Season 1) revealed they will play new characters in Season 2. Sosanya will play coffee shop owner Nina and Service will play record shop owner Maggie.
There also will be some casting changeups in Hell as well: Miranda Richardson, who played Madame Tracy in Season 1, will play a new demonic character named Shax, and the character of Beezlebub has been recast from Anna Maxwell Martin to Bridgerton's Shelley Conn.
Now there's only a little more than a month to wait for this season that has been more than four years in the making, it looks like Season 2 will capture the same magic as Season 1, but with a casting and genre shakeup — just what the series needed.
Good Omens Season 2 premieres July 28 on Prime Video.