What the Shocking Fast X Post-Credit Cameo Means for Fast 11
The Fast & Furious is gearing up for its own Avengers: Endgame-style finale, which means bringing the big guns back.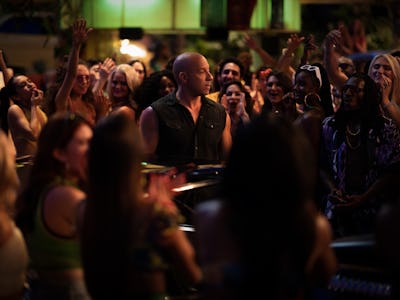 Do you smell what the Fast & Furious is cooking?
With Fast X as the penultimate entry in the series, the Fast & Furious is revving for its finale in Fast 11 in 2025. While there is little confirmed about the movie, other than Fast X's Louis Letterier returning to the director's chair, we can guess one thing based on the jaw-dropping mid-credits scene of Fast X: The family is becoming whole again.
Here's what the surprise return seen in the mid-credits scene of Fast X is all about for the future — and possibly the end — for the Fast & Furious.
Warning: Spoilers for Fast X ahead.
At the end of Fast X, Dom (Vin Diesel) and his son Brian (Leo Abelo Perry) barely survive the onslaught of Dante Reyes (Jason Momoa). But Dante's reign of terror isn't exclusive to Dom's crew.
In the mid-credits scene, a squad of soldiers enter an empty mansion. One large soldier in tactical gear is drawn to a smart phone that plays a pre-recorded message from Dante, who taunts and blames him for the death of his father in Fast Five. Remember, while Dom and his crew stole the Reyes fortune, there was one who actually pulled the trigger: Luke Hobbs, memorably played by Dwayne Johnson.
As Dante tells the soldier he's coming for him, the soldier unmasks and ... it's Luke Hobbs, still played by Dwayne Johnson. This time, there appears to be no intention of leaving ever again. As Luke tells Dante, "I'm not hard to find," adding in a "sumbitch" for good measure.
Is Dwayne Johnson Back in Fast & Furious?
It looks like it! After Dwayne Johnson and Vin Diesel had a public falling-out during filming The Fate of the Furious, Johnson bid adieu to "The Family" and went his own way with Jason Statham. The two co-starred in the action sci-fi spinoff Hobbs & Shaw in 2019. While its success inspired Johnson to thank everyone including Vin Diesel, and even tease a return, conversations appeared to sour behind the scenes. Ultimately, Johnson did not appear in F9.
In 2021, Vin Diesel wrote on Instagram a plea to Johnson to come back. Johnson disliked it, believing it was in poor taste to bring up their kids and the late Paul Walker. In an interview with CNN in December 2021, Johnson said he has no intentions to return, though his team still spent time hyping a sequel to Hobbs & Shaw. A year later in December 2022, producer Kelly McCormick told Comic Book Resources there was no active development on the movie.
Clearly, something has changed that's led Johnson back. Whether it's rooted in his disappointment over Black Adam, which failed to spawn a franchise at DC, or simply having a change of heart, Johnson is now back in Fast & Furious.
What Does Luke Hobbs' Return Mean for Fast 11?
Fast 11 is primed to be the end of the Fast & Furious, at least for now. With an expansive story swollen with characters and lore, it seems like Diesel, who sees the Fast & Furious as his own Dungeons & Dragons campaign, is striving to make his version of Avengers: Endgame, with every significant character ready to join a "final battle." It may be why even dead characters like Gisele (Gal Gadot) make a surprise appearance in Fast X.
Quite literally everyone who mattered to these movies are now primed for Fast 11. The only exception is Paul Walker's Brian, though it's not out of the realm of possibility (or poor taste) to use A.I. As for Hobbs, he's a pivotal character in the saga and easily the most logical figure to pit against a mastermind like Dante Reyes. Fast 11 would honestly be strange without him.
But with production of Fast 11 yet to start, who knows what might change before cameras roll. If there's one thing the Fast Saga has proved, it's that you can't expect anything.
Fast X is now playing in theaters.