Fast X Could Kick Off a Trilogy — And That's a Terrible Idea
Please, let the road end.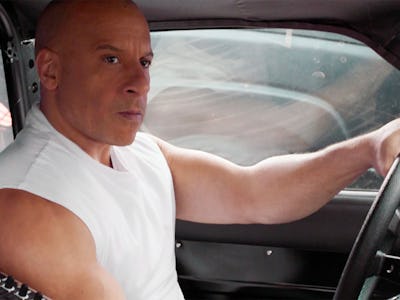 Universal Pictures
Family is forever, and so, apparently, is the Fast & Furious franchise. The high-octane saga has been going strong for over 20 years, and it's not slowing down. For a while, the 10th installment was shaping up to be the penultimate. Back in 2020, series star Vin Diesel teased that Fast X would be the first in a two-part finale. But with Fast X hitting theaters soon, Diesel and his onscreen family may be switching up their strategy.
Fandango spoke to Diesel and co-star Michelle Rodriguez at the Fast X premiere in Rome, where the co-stars addressed plans for the end of the saga. Don't expect that ending soon; Diesel seemed to tease that plans have changed for the grand finale. Instead of two films, Fast X may kick off a closing trilogy.
"Going into making this movie, the studio had asked if this could be a two-parter," Diesel told Fandango. "And after the studio saw part one, they said, 'Could you make Fast X, the finale, a trilogy?'"
Ending the Fast saga with 10 films might have been ideal, but an 11-film franchise feels a little silly, so concluding on a nice, even 12 might be the way to go. But is it the right move, or will it just place the Fast & Furious films in the same category as another failed trilogy?
Back when Fast X was touted as a two-part finale, it was poised to join the ranks of franchises like Harry Potter and Twilight, which concluded with double features. More recently, Marvel used Infinity War and Endgame as a two-part end to an era, and the Mission: Impossible series is about to dabble in it too. It can be an effective storytelling tool, but in most cases it's a not-so-subtle way to double the box office payday. Wrapping up one story in two films isn't always necessary, and franchises can get into even bigger trouble when they split their story into further installments.
The Hobbit films caught a lot of heat for stretching one 300-page book into three bloated films. Peter Jackson's trilogy undermined all the goodwill The Lord of the Rings brought him in the 2000s, and while Fast isn't restrained by thin source material, a three-part-finale could easily do the same for the franchise. Just look at how Harry Potter's Fantastic Beasts spin-off decided to bloat out from three films to five, even as reviews and box office hauls trended downward. You can only come up with so many excuses to make Vin Diesel drive cars and blow things up before audiences lose interest.
The Fast saga has been finding excuses to keep going for a decade. Furious 7 would have been the perfect time to stop — it delivered a touching ending for the dearly departed Paul Walker and tied up most of its loose threads — but Universal managed to pump out two sequels and a spin-off. Fans ate it up, but none of those titles matched the success of the Fast franchise at its peak.
If there was any doubt that the saga was running on fumes, F9 clinched it. The latest film was held together by retcons and cheap allusions to the franchise's central premise: family. Nine films in, it felt like a parody of itself. Justifying one sequel is hard enough at this point. Does the Fast saga have enough juice for three more? It sounds like we're about to find out, even if the answer already seems obvious.