Fast X's Ending Will Leave Fans "With Their Mouths Open," Michelle Rodriguez Says
The series is coming to an end, and it's going to be a doozy.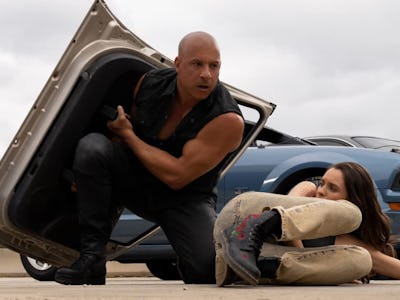 Universal Pictures
The Fast & Furious franchise is coming to the end of the road. Will there be a satisfying conclusion, or will it fly off a cliff? Based on star Michelle Rodriguez's vague teases about the ending of the upcoming Fast X (which will be followed by franchise finale Fast and Furious 11), it might do both.
"The only thing I can say, because I don't want to SPOILER ALERT anything, is that after these 23 years of making these movies, you're gonna get an ending," Rodriguez tells Inverse in an interview for her new action-comedy Dungeons & Dragons: Honor Among Thieves. "I think that most of the diehard fans in the audience are going to be there with their mouths open, and they're going to be like, 'You're ending the movie this way? What? This is the end of the movie?'"
Rodriguez doesn't give any more details of what that jaw-dropping ending will actually entail — Does someone betray the family? Does a heist go wrong? Does Letty die again? — but the fact that there will be a definite ending is exciting enough, considering the rocky production of Fast X. Justin Lin, who helmed the third, sixth, and ninth movies, was initially set to direct Fast X and Fast & Furious 11, but left a month into principal photography, citing creative differences. Transporter director Louis Leterrier replaced him.
But despite any behind-the-scenes snafus, Rodriguez promises that Fast X will deliver.
"I'm blown away by how we pull this stuff off by the seat of our pants every time," says Rodriguez. "So many things can happen behind the scenes, and just when we think that we can't do better than the last, it's always a surprise."
Fast X opens in theaters May 19.