Fast X Trailer Reveals Jason Momoa's Awesome New Character
After going to space in F9, where do the Toretto family go next? Fast X shows us the next stop.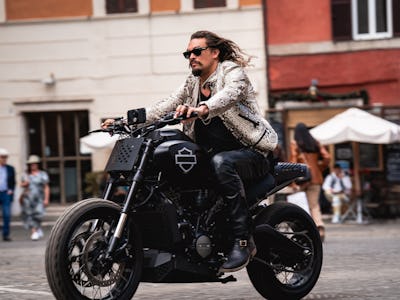 Universal Pictures
When Dom Toretto said he lives life a quarter mile at a time, he may not have realized how much the miles would add up. But when Fast X drifts into theaters on May 19, the Fast & Furious series will be among the longest-running Hollywood franchises of all time.
As of today, the franchise is on the high road to its two-part finale with the first trailer for Fast X. Despite some rocky turns along the way, including the mysterious exit of longtime director Justin Lin, Fast X is shaping up to be an even bigger movie than 2021's F9.
In the trailer, Dom Toretto (Vin Diesel) is challenged by Dante (franchise newcomer Jason Momoa), the son of Fast Five villain Hernan Reyes, who seeks revenge on Dom's crew for stealing his family's wealth. The climax appears to center on an old-fashioned street race, which could indicate the series finally returning to form if not for the abundance of globe-trotting set pieces with impossible physics.
Pretty much every important character from Fast & Furious history is back for Fast X (save for Dwayne Johnson's Luke Hobbs), along with newcomers like Momoa and Captain Marvel's Brie Larson. The latter debuts in the series as Tess, who's shrouded in mystery but seems aligned with Dom's crew.
The best part of the trailer is easily Momoa, whose role as Dante is simultaneously leaning into his public persona — that of the coolest guy in the room — and playing against type with his eloquent monologuing and flamboyant costuming. Just look at that shark tooth necklace! He's practically wearing a shark's jaw!
Fast X is another landmark for the mega-franchise. In 2013, when the franchise was preparing to unleash Fast & Furious 6, Universal released a montage (which became Fast 6's opening title) that retraced the series from its start with 2001's The Fast & The Furious to 2011's Fast Five. At the time, commemorating six movies felt like a big deal. And Fast 6 was a big deal, grossing a mighty $788 million worldwide.
10 years later, the Fast & Furious has only gotten bigger and nuttier, with the robust expansion of the Shaw family, a Dwayne Johnson and Jason Statham-led spin-off movie, and a Netflix cartoon aimed at kids among its accomplishments. While F9 saw the series woefully lean into its worst habits and meme-able qualities, there's hope that Fast X and the still-untitled eleventh movie can give Hollywood's unlikeliest series the NOS boost it needs to bring the saga home.
Fast X will race into theaters on May 19.