Deadpool 3 May Be Even More Important Than Fans Think, New Report Hints
How Marvel begins and ends its phases actually matters. Deadpool 3 could do either.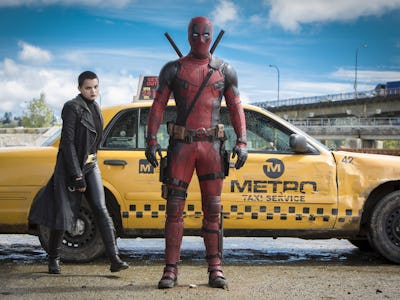 Marvel Enterprises/20th Century Fox/Kobal/Shutterstock
Only Deadpool can moonwalk his way into a pivotal Marvel Cinematic Universe role.
Back in October 2022, Marvel Studios shuffled its schedule to bump Deadpool 3 from September 6 to November 8, 2024. That November weekend was originally reserved for Fantastic Four, but now Marvel's First Family will re-debut on Valentine's Day 2025. Blade has also been delayed to take over that September 6 weekend.
While Marvel quietly made these changes, the studio still hasn't clarified two key details: what movie marks the official end of Phase Five, and what's the official beginning of Phase Six? The answer to either could, unexpectedly, be Deadpool 3.
On reference pages like Wikipedia, Deadpool 3 is listed as the start of Phase Six. But in a February 20 article from TheWrap by insider Umberto Gonzalez, Deadpool 3 is listed as the end of Phase Five. Marvel has not provided any clarification.
Historically, Marvel has not placed any real premium on the movies that start and end its phases. Phase Two began with Iron Man 3 and ended with Ant-Man. Captain America: Civil War was an eventful kickoff to Phase Three, but that same era ended with Spider-Man: Far From Home, a movie about Spider-Man taking a school trip. WandaVision wasn't meant to start Phase Four, but it wound up being the best foot forward.
But despite Marvel seemingly improvising on the spot, its phases are still calculated decisions that say something about the moment the franchise is in. To start or end with Deadpool 3 is a statement that could read like Marvel declaring in clear terms, "The X-Men are here now!" An announcement like that matters when the end of the road is the massive Avengers: Secret Wars.
Given Deadpool's unique situation — he's the first hero from Fox's X-Men franchise to get his own MCU movie — Deadpool 3 may be more important than its endless crude jokes and '80s references imply. Whether the movie begins or ends a phase, what matters is that Deadpool 3 will transition fans into a new era. It matters all the more that Hugh Jackman will co-star with Ryan Reynolds, ensuring the X-Men are involved in whatever happens next.
It's hard to speculate, because the plot of Deadpool 3 is still a secret. Besides having both Deadpool and Wolverine, and Emma Corrin as a villain, there's not a single comic storyline the movie is set to emulate. The movie may even still be what Reynolds tweeted two years ago, that of a "Rashomon-style" road trip, whatever that means.
Since his first film in 2016, Deadpool has played by his own rules as a joyously R-rated superhero. Now that Deadpool is under Marvel Studios, it's unclear how nicely Deadpool (and Wolverine) will mesh with the Avengers. Deadpool 3 could change everything for the Merc with the Mouth, but so long as it delivers the same fun fans had before, it will be hard to complain.
Deadpool 3 will be released in theaters on November 8, 2024.