Deadpool 3 Villain Casting Fuels a Huge MCU Multiverse Theory
Ryan Reynolds and Hugh Jackman finally have a villain. But who will Emma Corrin play?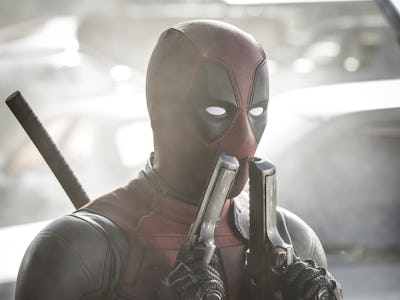 Joseph Lederer/Marvel Enterprises/20th Century Fox/Kobal/Shutterstock
Deadpool and Wolverine finally have a reason to team up.
In a new report by Deadline, Marvel Studios has cast Emma Corrin (The Crown) for Deadpool 3. Corrin will co-star with Ryan Reynolds and Hugh Jackman, who will return as Wolverine. News that the actor is joining the film comes just after Patrick Stewart also revealed he's "on standby" for the same project.
The specifics of Corrin's role aren't known, although they will play the villain. Also unknown is the story of Deadpool 3, though there's healthy speculation it will involve the multiverse now that production is under Marvel Studios after the franchise's earlier outings with 20th Century Fox.
Because of Marvel's recent emphasis on the multiverse, it's plausible Corrin's role could be Lady Deadpool. In the comics, Lady Deadpool is Wanda Wilson, who comes from a parallel Earth where America is engulfed in civil war. She's pitted against the evil General America, and fights on behalf of rebels seeking to topple a fascist government.
It's unlikely Deadpool 3 will adapt Lady Deadpool's origin story, if Corrin is, in fact, Lady Deadpool at all. (And if they are, the character will need a villainous twist.) Still, Marvel is surely using the multiverse to bring Deadpool, Wolverine, and the rest of the X-Men into its sandbox universe, and Deadpool 3 will have the unenviable task of making that happen while still delivering the R-rated comedy and violence that fans expect.
It's been a long road for Deadpool's return to the big screen. After Deadpool 2 in 2018, the X-Men film franchise rights (including Deadpool) fell into limbo amid the acquisition of Fox by Disney. When the dust settled, Fox's Marvel right fell under Disney's ownership of the rest of Marvel, and by October 2019, Ryan Reynolds was having meetings with Marvel Studios about the future of Deadpool.
Deadpool 3 was announced by Reynolds and Jackman on September 27, 2022, and will release on November 8, 2024, as part of Marvel's Phase Six. The movie will be directed by Shawn Levy, who last collaborated with Reynolds on The Adam Project and Free Guy (and with Jackman on the cult sci-fi sports film Real Steel). Screenwriters Paul Wernick and Rhett Reese return on scripting duties, taking over from Bob's Burgers writers Wendy Molyneux and Lizzie Molyneux-Logelin.
Deadpool 3 will open in theaters on November 8, 2024.