'Iron Man 3' Writer Says His Mandarin Was Never Part of a Bigger MCU Plan
"I'd be lying if I said I knew there was a grand plan."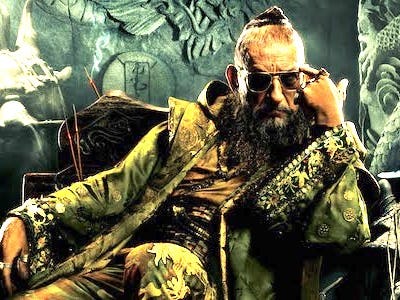 Marvel
Marvel fans will meet the Mandarin, for real this time, in 2021 when prolific Hong Kong actor Tony Leung stars as the comic book villain in Shang-Chi and the Legend of the Ten Rings. Hardly any fan can say they saw the Mandarin's "return" to the Marvel Cinematic Universe coming, and that includes Drew Pearce, writer of Iron Man 3 and director of the epilogue short film All Hail the King.
"I'd be lying if I said I knew there was a grand plan, and I would be surprised if there had been a plan," Pearce tells Inverse.
Ahead of the release of Pearce's latest project, the screenplay for Fast & Furious Presents: Hobbs & Shaw, he reflected with Inverse on the Mandarin, a villain he reimagined in 2013's Iron Man 3 and will return in Shang-Chi.
"I couldn't be more excited," Pearce says. "I was always super clear with [Marvel Studios President] Kevin [Feige] that Killian co-ops an ancient mantle and exploits it. All Hail the King backed that up, and it also was an excuse to hang with Trevor a bit longer."
Back in 2013, Marvel surprised fans when the Mandarin, Tony Stark's nemesis in Iron Man 3 who was an Indochinese terrorist and leader of an ancient cult called the "Ten Rings," was revealed to be a phony. Instead, he was a very drunk actor, Trevor Slattery (Ben Kingsley), who was hired by Stark's corporate rival Aldrich Killian (Guy Pearce) to threaten Iron Man.
On the Blu-ray edition of Thor: The Dark World released a few months after Iron Man 3, Marvel included the short film All Hail the King. Directed by Pearce, the film revealed the Mandarin is real, and wasn't happy Trevor mocked his name and legacy in front of the world.
Pearce explains that his version of the Mandarin emerged when it was deemed "unsavory" to introduce the Mandarin as he was in the comic books: A villainous Chinese man evocative of old 19th century "yellow peril" stereotypes.
"My approach to the Mandarin was inspired by the reason why I couldn't use the original," Pearce says. "It's very much a yellow peril stereotype with a particularly unsavory edge of propaganda used in this era. But that inspired the idea of what kind of propaganda is used [now]? The concept of demonization of the other, capital 'O,' we really flipped that concept."
He adds that Iron Man 3 having "the context of a movie with a powerful white lead" made it out of date to have Stark square up against a Chinese Mandarin.
"It felt deeply organic that the Ten Rings and the Mandarin mantle have been legitimately taken up," he says. "There are versions of the Mandarin in the comics that are incredibly interesting and doable — the multinational technocrat Mandarin is a really attractive one."
The version Pearce is referring to comes from the 2012 miniseries Ultimate Comics: Iron Man, in which Mandarin is reimagined as "Mandarin International," an organization instead of a lone individual.
While fans have expressed admiration for Ben Kingsley's unique portrayal of the Mandarin, Drew Pearce finds it "more exciting" that Tony Leung — a celebrated actor in Asia who will make his Hollywood debut in Shang-Chi — will play an authentically Chinese Mandarin. (Kingsley is half-Indian.)
"I think it's more exciting to me when you cast one of the most exciting names I've ever seen in a Marvel movie as the Mandarin," he says. "When it's a movie that has such an authentically Asian context, and an Asian lead and Asian filmmakers behind it, frankly, I couldn't be more excited to see where the Mandarin goes next."
Shang-Chi and the Legend of the Ten Rings will be released in theaters on February 12, 2021.