Fantastic Four Director Reveals the "Mercurial" Reason he Ditched Star Trek for Marvel
Matt Shakman left the Starship Enterprise for the MCU. Now, we finally know why.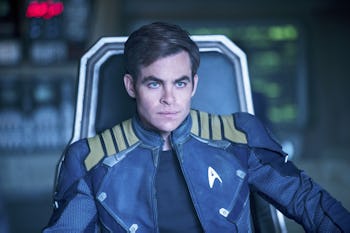 Paramount Pictures/Bad Robot/Kobal/Shutterstock
For a time, it seemed as if Matt Shakman was boldly going where few filmmakers had gone before: directing Star Trek on the big screen. But the demands of the Marvel Cinematic Universe were simply too great for him to ignore.
In an interview with TheWrap, the ex-sitcom star turned director explained that he had spent over a year working on the fourth Star Trek film before exiting due to scheduling conflicts with his other big assignment, Marvel's Fantastic Four.
"I had a great time working on Star Trek for a little over a year," Shakman told TheWrap while promoting The Consultant for Prime Video. "I love that cast that J.J. put together, and it would have been an unbelievable pleasure to work with them on the fourth installment there."
Shakman said he left Star Trek because of timing, as well as his positive experience with Marvel Studios on the Disney+ series WandaVision. "Movies have different journeys and momentums and schedules are a little bit mercurial, and so when the Fantastic Four opportunity came up, it was just too hard to pass up, and to go back home to Marvel, a place that I worked on WandaVision at, with those people who are wonderful collaborators."
Both Star Trek 4 and the Fantastic Four reboot have had turbulent developments. For Trek, it's been seven years since Star Trek Beyond hit theaters. In the years since, directors like Quentin Tarantino, S.J. Clarkson (Jessica Jones, The Defenders), and Noah Hawley (Fargo, Legion) were all attached to the next installment of the reboot Kelvin Timeline before the project landed on Shakman in July 2021. Now Star Trek is once again without a director.
As for Fantastic Four, Marvel's long-awaited reboot set in its MCU canon was originally set to be directed by Jon Watts, of Marvel's newest Spider-Man trilogy. Shakman was confirmed as Watts' replacement in September 2022.
In speaking with TheWrap, Shakman observed parallels between the Fantastic Four and Star Trek, believing them to be exemplars of genre stories.
"They both were launched in the '60s, they're both about optimism and looking to the stars and technology and they're about family too," Shakman said. "The family you have, the family you make. So they're aligned in many ways."
While Shakman is hitching his ride to the top of the Baxter Building, Paramount and J.J. Abrams are likely still seeking a director bold enough to captain a ship that can't seem to hit warp speed. In September 2022, Paramount removed Star Trek 4 from its 2023 release schedule, so it may be a while before the Enterprise is back on course.