Deadpool 3 Could be More "Disgusting" Than Ever Thanks to Matthew MacFayden
The Emmy-winning star of Succession is leaping to the Marvel Cinematic Universe.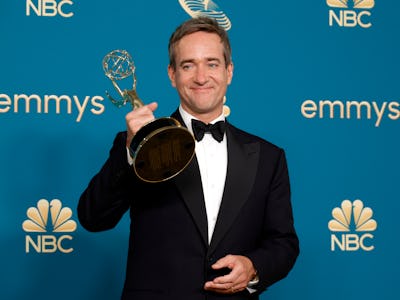 Frazer Harrison/Getty Images Entertainment/Getty Images
Who wouldn't want to see Logan Roy tell Deadpool to "f*** off"? While that's not happening any time soon, a Deadpool 3 casting announcement shows the Marvel franchise has noticed the success of Succession and is borrowing one of its biggest stars.
On Tuesday, Deadline reported that Emmy-winning actor Matthew Macfayden, who stars as Shiv's husband Tom Wambsgans in Succession, will have a role in Deadpool 3. There are no details regarding the character Macfayden will play, including whether it's a pre-existing role from the comics. Broader story details for Deadpool 3 also remain under wraps. Given Deadpool's nature, however, you can bet on Wade Wilson cracking a Succession joke or two at Macfayden's expense. Maybe he'll even slip in a reference to 2005's Pride & Prejudice, where Macfayden played Mr. Darcy.
Deadpool 3 marks a lot of firsts for those involved. It's the first true collaboration between Marvel Studios and Ryan Reynolds; the first two Deadpool movies were released by 20th Century Fox prior to their 2018 acquisition by Disney. It will be the first Deadpool film set in the Marvel Cinematic Universe, although Marvel's preoccupation with the multiverse means the borders delineating universes aren't as strong as they once were.
Deadpool 3 is also the first superhero project for Macfayden. The English actor is no stranger to blockbusters, having starred in 2010's Robin Hood, 2011's The Three Musketeers, and 2018's The Nutcracker and the Four Realms, but he's never worn spandex before, which makes his appearance in Deadpool 3 something to look forward to.
While Deadpool 3 is still over a year away, Macfayden's current role as Tom on Succession is just one of many elements that make Sunday nights with HBO appointment viewing for millions. For those impatient to see Macfayden square off with Deadpool and Wolverine, watching him desperately cling to Shiv is just as riveting.
Deadpool 3 will open in theaters on November 8, 2024.