Succession Season 4 Savagely Kicks Off The Roy Family's Final Act
HBO's messiest family drama is setting itself up for an explosive conclusion.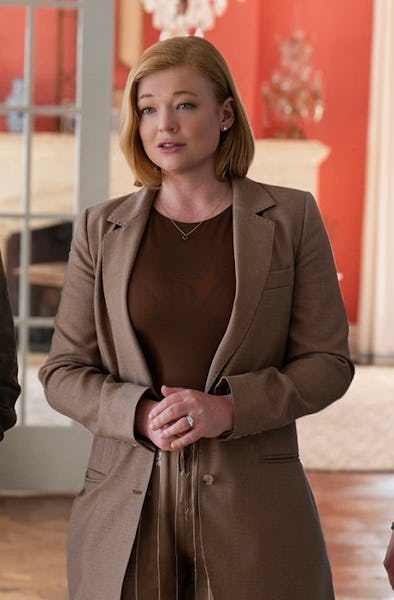 HBO
There are a lot of ways that someone can describe HBO's corporate dramedy Succession: Shakespearean, intense, silly, overdramatic, and everything in between. None of these descriptors are wrong – in fact, they are exactly what the show, guided by master satirist Jesse Armstrong, wants to be described as. It's a messy show, and when viewers find the three main Roy siblings at the beginning of its fourth season, it's about to get even messier.
If you may recall, the third season of Succession ended with media monarch Logan Roy all but cutting out three of his children from his dynasty: resident weirdo Roman, the underestimated and vicious Shiv, and Twitter's favorite sad boy Kendall. Set shortly after the events of that finale, Season 4's opener (this writer received only the first of Succession Season 4's 10 episodes) is mostly business as usual, except for the unlikely unity Kendall, Shiv, and Roman have with each other. Seeing this trio finally come together with some shared goal and love is exciting to watch unfold, as most of the show up to this point had them butting heads and spitting venom. While things aren't sunshine and roses, it's great to see Jeremy Strong's Kendall and Kieran Culkin's Roman insulting each other in a more playful than outwardly mean way. Seeing Sarah Snook's Shiv dish it out so eloquently is also incredibly fun.
Unfortunately, this fun has to end somewhere, and it does so with the reintroduction of the dream team of nightmares, Tom and Greg. With the latter now insisting they're called the Disgusting Brothers, every scene with them is skin-crawlingly uncomfortable. This is especially true with Nicholas Braun's fully red-pilled Greg. Suppose his actions and choice of words are anything to go by. In that case, Season 4 will likely complete his devolution into another corporate misogynist — a far cry from the affable goof we met in the pilot.
However, thanks to Armstrong's powerful writing, you can't even say that Greg's newest arc is undeserved or out of character. The showrunner is the glue that holds the show together, maintaining a balance between showing how insufferable these characters are and how pitiful they can be. Against all odds, we want to see how the Roys and those around them want to mess up their lives even further, and that's because they are written in such a nuanced yet damning way.
Speaking of the show's writing, Season 4 is a testament to how even the most basic or unexciting of business deals can feel like a heartstopping game-changer in the world of Succession. The back-and-forths between the Roys and their father aren't the most aggressive the show has provided viewers, but each phone conversation and insult delivered behind enemy backs has a palpable weight to them. We, as audience members, feel the life-or-death tension that the premiere's potential deal could bring to both parties intimately. This ability to hook viewers into the lives of these terrible, no-good people is what always made Succession stand out from other rich people dramas. Armstrong's razor-sharp writing only solidifies this, and it's really going to hurt once we get closer to its finale.
With just one episode, Succession has once again proven itself as one of the best television series of the modern era. The magnetic performances of its core cast, coupled with the fantastic writing that combines satire and genuine pathos, create something unlike anything else currently on air. While we can't say what will happen throughout the rest of the season right now, what we can say should come as no surprise: Succession is setting itself up for an explosive conclusion, and whether or not we want it to end, it will be nothing short of required television viewing.
Succession Season 4 premieres March 26 on HBO.