Daredevil's Disney+ reboot may answer fans' biggest MCU questions
Marvel is planning a return trip to Hell's Kitchen.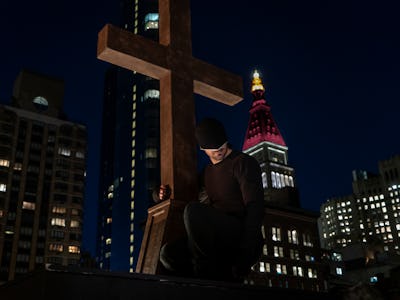 Marvel Cinematic Universe fans have been waiting for a new season of Daredevil ever since the series was unceremoniously canceled in 2018. The superhero show, which aired for three seasons on Netflix, is still considered by many fans to be one of the best TV projects that Marvel has ever been involved in, and Charlie Cox won the support of comic book readers everywhere with his performance as Matt Murdock.
Fan support for Cox led Marvel to bring the actor back as Daredevil for a brief cameo in last year's Spider-Man: No Way Home, which happened the same week that Vincent D'Onofrio reprised his role as Kingpin in Hawkeye. Their returns were taken to be signs that Marvel was planning on, at the very least, making Murdock and Fisk prominent members of the MCU.
Now it looks like Marvel's plans for its Daredevil characters extend far beyond just future cameo appearances.
A Promise Fulfilled — According to Variety, Marvel has officially hired Matt Corman and Chris Ord to write and produce a new Daredevil series for Disney+. As of now, it's unclear which cast members Marvel is considering bringing back for the Disney+ project, although Cox and D'Onofrio seem like sure bets.
The report also doesn't indicate whether the project will serve as a fourth season of Daredevil or a reboot of the Netflix series. Either way, fans should probably expect any future episodes of Daredevil to look and feel a little different from the show's Netflix run.
A Really Good Lawyer — While Marvel brought both Charlie Cox and Vincent D'Onofrio back into the fold last year, it's still unclear if the versions of Matt Murdock and Wilson Fisk that appear in No Way Home and Hawkeye are the same ones that the actors played in Daredevil. In fact, Marvel has yet to confirm whether the first three seasons of Daredevil are even considered canonical within the MCU. If they're not, then this Disney+ project could be a full-fledged Daredevil reboot.
However, even if Marvel does decide to let the new episodes of Daredevil continue where the show's third season left off, the series will still look and feel different from how it did on Netflix. The first three seasons of Daredevil are violent and dark in a way that none of Marvel's Disney+ originals have been, and it's likely this new Daredevil season will probably cater more to Marvel's established Disney+ standards than fans of the Netflix series would like.
That doesn't mean Marvel can't bring other members of the original Daredevil cast back for the new Disney+ episodes. Deborah Ann Woll and Elden Henson in particular were just as important to the success of Daredevil as Cox and D'Onofrio were, so one has to assume that Marvel is considering bringing them back as Karen Page and Foggy Nelson.
The Inverse Analysis — Prior to the release of Variety's report, rumors had already been circulating for months that Marvel was planning on resurrecting Daredevil in some form. As a result, this update feels more like a fulfillment of the unspoken promise Marvel made when it brought back Vincent D'Onofrio and Charlie Cox.
That said, while fans will probably still have to wait a while to find out the answers to many of the questions they have about Daredevil's place in the MCU, it's undeniably exciting to know that Marvel really does plan on taking viewers back to Hell's Kitchen.