Black Mirror Season 6 Trailer Reveals a Shift for the Sci-Fi Show
Our first glimpses of the dystopian anthology's latest chapter involve some big stars — and big scares.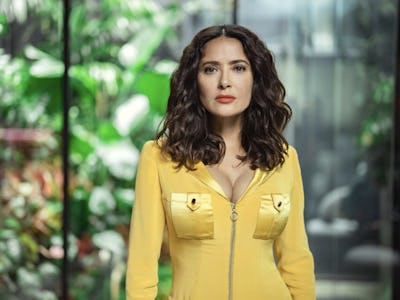 Netflix
Black Mirror took its sweet time returning to Netflix for a sixth season, and it's easy to see why. After a pandemic, the rise of artificial intelligence, and a frenzied summer where people were sure digital images were great investments, it's felt like we're living in an episode of the sci-fi anthology show, albeit not a well-written one.
But after a break to introduce Philomena Cunk to Netflix audiences everywhere, Charlie Brooker is finally back in the role we know him best for: the Rod Serling of the digital age. Season 6 of Black Mirror, slated to premiere on Netflix in June, delivers more delightfully twisted adventures with an all-star cast, but this time it looks like the tone is even darker than usual. Watch the teaser trailer below:
Season 6 of the series boasts a cast including Aaron Paul, Anjana Vasan, Annie Murphy, Auden Thornton, Ben Barnes, Clara Rugaard, Daniel Portman, Danny Ramirez, Himesh Patel, John Hannah, Josh Hartnett, Kate Mara, Michael Cera, Monica Dolan, Myha'la Herrold, Paapa Essiedu, Rob Delaney, Rory Culkin, Salma Hayek Pinault, Samuel Blenkin, Zazie Beetz.
Like any good British Netflix show, there are some easily recognizable names like Michael Cera and Aaron Paul, some Netflix mainstays like Kate Mara and Ben Barnes, and, of course, British actors who are sure to become quick fan favorites like Monica Dolan and Paapa Essiedu.
But this teaser trailer doesn't appear to have the same tone as the previous chapters. Black Mirror is based on the premise of examining how technology affects us, but this trailer seems focused on the human element of how we treat one other. There's also an unusual amount of violence, especially for a teaser trailer.
This could be evidence that in the 2020s, Black Mirror is stepping it up and going for a more outright horrific tone in order to get its message across. It looks like technology has become such an integral part of our life that the show doesn't need to specifically be about that anymore. Any dissection of human life is going to stumble on a critique of tech.
Black Mirror Season 6 premieres on Netflix in June.