Kang Dynasty Writer Playfully Hints at Two New Avengers (and One Veteran)
Jeff Loveness has maybe revealed who is next in line to join the Avengers, or is having fun stoking the rumor mill.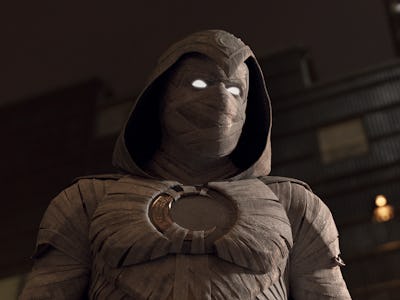 Marvel Studios
The future of the Marvel Cinematic Universe is unknown to all (except those inside Marvel Studios' offices in Burbank). But the writer of Marvel's 2025 blockbuster Avengers: The Kang Dynasty is out here having fun over who might be part of the new assembly of heroes.
In an interview with Polygon, Marvel screenwriter Jeff Loveness spoke at length about the psychology of Kang the Conqueror, the new big bad of the MCU played by actor Jonathan Majors. But over the course of the interview, Loveness namedropped three very interesting Marvel heroes who might stand up to Kang: Daredevil, Moon Knight, and Hawkeye.
"I wish Hawkeye a lot of luck. I'm sure Daredevil and Moon Knight are gonna be great against those guys," Loveness told Polygon.
It's important to note there's a hint of sarcasm in Loveness' quote to Polygon. The quote follows a lengthy chat about the psychology of Kang, whom Loveness likens to Napoleon. "I think more about his defeat at Waterloo or his exile or his failure in Russia more so than I think about his military campaigns across Italy," Loveness says about his approach to Kang. "I think about what happens in the scope of defeat, and how you can humanize that character and give him a revenge arc."
But Loveness' name-checking of specifically Moon Knight (Oscar Isaac), Daredevil (Charlie Cox), and Hawkeye (either Jeremy Renner or Hailee Steinfeld) is a fun thing to speculate. Especially Daredevil, who is so outmatched by a mythical being like Kang on paper but has the guts to stand up to enemies bigger than him. It'll also be interesting how the Avengers work with Moon Knight, whose multiple identities can prove to be an advantage or a liability. And Hawkeye, well, we've already seen what an ace archer can do.
Loveness told Polygon what he also told Inverse recently: Kang the Conqueror is not a liar, and that Kang was serious when he warned Scott Lang (Paul Rudd) he is the only one who can stop the Council of Kangs. "If you go back and watch the movie, and listen to what he's saying, we're in a lot of trouble, because he was the only thing that can stop these guys," Loveness says.
While Kang can't help the Avengers (thanks a lot, Ant-Man), the Avengers have other pressing matters to attend to — like figuring out who is on the team. Since Avengers: Endgame, the Avengers haven't been shown as a fully operational task force. Most are scattered in the wind, too busy with other matters to hang out at Avengers HQ. (If it's even still around.)
Still, one of the more exciting prospects of Phase Five and Phase Six is learning who will actually join the "New Avengers," if you will. There are obvious candidates in Sam Wilson (Anthony Mackie) and Carol Danvers (Brie Larson). Mark Ruffalo's Bruce Banner/The Hulk also doesn't seem to be going anywhere, evidenced by his presence in She-Hulk: Attorney at Law and the post-credits of Shang-Chi.
But who else will join the Avengers? The final roster has yet to be determined, even with Loveness joking about a few. All anyone can say for sure is that the next era of Earth's Mightiest Heroes won't look like the one before. It's a new dynasty.
Ant-Man and the Wasp: Quantumania is now playing in theaters.