The MCU's Current Struggles Prove It Learned the Wrong Lesson from The Avengers
It's time for the Avengers to assemble again.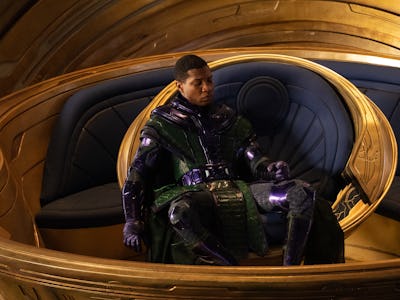 Marvel Studios
It's only been a few years since Marvel Studios officially unveiled its plan for the Multiverse Saga. But compared to the franchise's last big phase, it's taking ages for things to really come together.
Ever since Avengers: Endgame brought the Infinity Saga to an end, nothing's felt quite right in Marvel's Cinematic Universe. It doesn't help that Endgame effectively brought the MCU back to square one, without its eponymous supergroup or any real focus for future phases. Marvel Studios President Kevin Feige eventually clued fans into the plan for Phases 4 through 6, and projects like Spider-Man: No Way Home, Loki, and Doctor Strange in the Multiverse of Madness have each worked to establish the multiverse in earnest. But the Multiverse Saga still feels rudderless, even halfway into Phase 5, and it may have a lot to do with the absence of the Avengers.
It's been about three years since Marvel fans have been treated to an Avengers movie. After the overhaul of Endgame, that's not exactly a bad thing: the MCU definitely needed a chance to reset and scale back. With so many original Avengers either deceased or nearing retirement, the franchise had its hands full introducing the latest incarnation of the team ... or, at least, potential candidates for it. Whoever does inevitably make the cut will face off against Kang the Conqueror in Avengers: The Kang Dynasty, the first of two Avengers films set to cap off the Infinity Saga. But that's not coming our way until 2026, roughly seven years after the last Avengers team-up.
On paper, such a long break between Avengers films might make sense. Compared to previous Marvel phases, though, it's a surprising departure from Feige's tried-and-true formula. From the very beginning, Avengers films marked the end of their respective phases. The first Avengers brought Phase 1 to a close; Avengers: Age of Ultron capped off Phase 2 (though Ant-Man was the official closer). Phase 3 was spoiled for Avengers-centric content, with Captain America: Civil War, Avengers: Infinity War and Endgame all premiering within its four-year window. Neither Phase 4 or Phase 5 has seen anything comparable, and that could be the reason why the MCU feels adrift.
Avengers films have become the check-in point for key moments in the MCU. While any Marvel project can help bring us closer to the latest big threat (just look at how Loki set up Kang ahead of Ant-Man and the Wasp: Quantumania), the Avengers need to come together every once in a while, if only to keep the saga focused. Marvel has a handful of team-up movies set for Phase 5 and 6, like The Marvels, Captain America: Brave New World, and even Thunderbolts — but will these films bring us any closer to establishing a new Avengers line-up? Will any build on the threat that Kang and his variants are posing to the multiverse?
While The Multiverse Saga does have the benefit of a clear destination, the phases that make up the saga do not. That could pose a problem once the new Avengers do eventually form: the original line-up weren't exactly a family, but they had a handful of adventures under their belt before they took on Thanos in Infinity War. Building a rapport between new heroes is pretty crucial to the success of The Kang Dynasty, and it'll be doubly important in its follow-up, Secret Wars, which could mark the end of the MCU as we know it.
Without an established team to rally behind, the Multiverse Saga is lacking what so many Marvel projects had: a distinct sense of urgency. But it's not too late for the MCU to find its footing. Marvel's major films and TV shows have paused production because of the ongoing WGA and SAG-AFTRA strikes, and some creative turnaround suggest many are starting from scratch. Slates have never been 100% set in stone, and with the franchise pivoting to focus more on quality than quantity, this could be the perfect time for Marvel to reevaluate its future projects and come back stronger. Marvel could move up their next Avengers movie, or at least offer some Avengers team-ups in a few of the upcoming solo movies. We're not saying an Avengers film would solve all the problems in this saga, but it's certainly a step in the right direction.