Disney Wants You to Blame Wakanda Forever for Why Quantumania Looks so Bad
Per a VFX tech employed by Marvel, Black Panther 2 took precedence.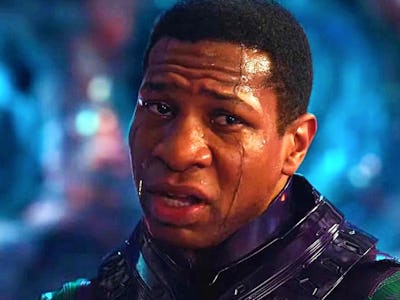 Superhero fatigue has officially crept in, but it's not just former fans shrugging off the near-constant onslaught of media starring A-list celebrities as beloved comic book crusaders.
Visual effects workers, the magicians that render the impossible possible on-screen, are losing steam. It's not their fault that they can't make the supes look super anymore— they're exhausted. In the specific case of Ant-Man and the Wasp: Quantumania, third in the Ant-Man trilogy and the second-ever title in the sprawling 31-movie Marvel Cinematic Universe to go "rotten" on the Tomatometer, it isn't just burnout (or, at least, that's Disney's deflection).
VFX technician "Jim" told Vulture that the reason for noticeable editorial shortcuts in Ant-Man 3 — which were made "to trim or otherwise alter to either save money, save time, or cover up the inability to get it done" — is because Black Panther: Wakanda Forever, which had a release date only three months before Ant-Man 3's, was at the top of the priority list.
Jim noted that the VFX workers behind Ant-Man 3 didn't raise their voice because they didn't want to jeopardize their livelihoods, and because they couldn't quite wrap their heads around one of the biggest and most powerful company's in the world not having the proper funds to carry Ant-Man 3 all the way through.
"I think the movie is getting the reviews it's been getting because Marvel is doubling down as much as possible on constricting quality," Jim added in his statement to Vulture. "They're squeezing blood out of stones. And we're out of blood."
Ant-Man and the Wasp: Quantumania certainly isn't the first time that a blockbuster borne from Marvel Studios has looked ... uninspiring. In fact, this isn't even the first time VFX workers under contract with Marvel have shared their frustrations over the post-production process with journalists — once memorably summarizing the entire ordeal to Vulture last summer as getting "pixel f*cked."
Shortly after Thor: Love and Thunder premiered in theaters last July to a critical whimper — a drastic contrast to the acclaim Thor: Ragnarok received in 2017 — io9 released a story that includes anecdotes from VFX pros that paint a picture of a toxic employer-employee relationship with Marvel. Sources recall "fist fights," long hours without seeing family, employees reaching a "cracking point," and the prevalence of "cry rooms," several of which materialize at Marvel's insistence on pumping out content (even if the graphics are half-baked like in Thor 4 and Ant-Man 3, or worse, uncanny valley-esque visuals in She-Hulk: Attorney at Law). To be fair, Marvel isn't the only one to blame for the egregious exploitation of VFX workers, but the industry giant's nonstop movies-and-TV machine inevitably causes it to be a frequent offender.
And even the most loyal fans are taking notice of the slip in standards, which is turning them off from sticking around for whatever else Feige and co. are cooking up for the MCU. Marvel Studios is digging its own grave, lending to the "superhero fatigue" that threatens the juggernaut production banner's very existence.
Ant-Man 3's crummy looks — and, let's be frank, several other Phase 4 movies and Disney+ shows with similarly rushed, lackluster aesthetics — don't have to become a repeat pattern for the entirety of Marvel's planned Phase 5 and 6 television and film slates, though.
Insider sources that spoke with The Wrap earlier this week indicated that The Marvels' original summer 2023 release date was pushed all the way to Thanksgiving month to give more time for post-production to complete. If the decision to slow down and give weary VFX workers time to fix glaring issues pans out in The Marvels' favor, then perhaps other Phase 5 and 6 projects will find themselves spread out more on the calendar.
Per The Hollywood Reporter, Disney is rumored to be rethinking both its Marvel and its Star Wars franchise output. Specifically, this includes delaying the Hawkeye spinoff series, Echo, and the Iron Man Trilogy and Black Panther: Wakanda Forever spinoff series, Ironheart, to 2024. Agatha: Coven of Chaos' release has also been rumored to be delayed due to vague "story reasons." The only sure bets for this year on Disney+ are Loki Season 2 and the Captain Marvel spinoff series Secret Invasion.
Unless Feige and co. decide to pump the brakes across the board over at Marvel Studios and reevaluate their project deadlines to ensure only the best quality output makes it to theaters, then it appears that Marvel's in-house and externally sourced visual effects artists will continue to be overworked — and, in spite of their extraordinary efforts, collectively underperform.
Ant-Man and the Wasp: Quantumania is in theaters now.