Ant-Man and the Wasp: Quantumania's Disney+ Release Date May Be Sooner Than You Think
Based on Disney's recent streaming history, we could be waiting a couple of months for the latest Marvel flick.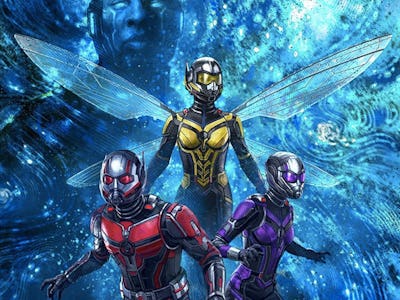 If you're ready to shrink way, way down and hang out with Paul Rudd, Michelle Pfeiffer, Jonathan Majors, and William Jackson Harper in the Quantum Realm — from the comfort of your living room — then you might be wondering when Ant-Man and the Wasp: Quantumania's Disney+ release date will arrive.
The latest Marvel superhero film is currently in theaters, but if you're still avoiding crowded indoor spaces or just prefer watching movies cozy under a blanket, you're out of luck — for now.
So when will Ant-Man and the Wasp: Quantumania arrive on streaming? Here's everything we know about its Disney+ release date based on Marvel's recent history with the streamer (along with a few other crucial factors). Using this information, you should be able to decide whether it's worth waiting for this one to hit streaming or if you should see it in theaters now instead.
When is the Ant-Man: Quantumania Disney+ release date?
Marvel typically waits a while to reveal when each new movie will arrive on Disney+ (likely to encourage more people to pay to see it in theaters), but there's one piece of information we know for sure: All new Disney movies take at least 45 days before making the jump from cinemas to streaming.
Of course, 45 days is the minimum, not the only option.
Encanto, which wasn't a massive box office hit, became a nationwide phenomenon after it landed on Disney+ on December 24 2021 (just one month after its theatrical debut). But Disney often waits even longer for its biggest movies. For example, Thor: Love and Thunder could have arrived on Disney+ by late August 2022 but got pushed back to September 8 to line up with Disney+ Day. Similarly, Black Panther: Wakanda Forever could have arrived on Disney+ by late December 2022 but pushed back to February 1 due to its massive success at the box office.
So for Ant-Man and the Wasp: Quantumania, the soonest the movie could possibly show up on Disney+ is Monday, April 3, 2023. But there are a few other factors to consider. For one thing, Ant-Man 3 conquered its opening weekend, scoring $104 million at the box office, so Disney might want to keep it in cinemas a little longer. In that case, it might not show up on streaming until the start of Summer 2023.
On the other hand, it's possible we could see Disney pull another Encanto and push Ant-Man and the Wasp: Quantumania's Disney+ release up by a few days if it begins to falter at the box office in the coming weeks. That's unusual for most Marvel films, but the first Phase 5 film has garnered mixed reviews from audiences, and mostly sour ratings from professional critics, which could cut into its box office performance. Not to mention Ant-Man 3's competition for audiences' attention (and dollars) at the movies will be fierce. Coming up next in theaters this February and March are Operation Fortune, Creed III, Scream VI, Bottoms, Shazam! Fury of the Gods, John Wick: Chapter 4, and Dungeons & Dragons: Honor Among Thieves.
Dropping Ant-Man 3 on Disney+ earlier than expected could ensure more eyeballs on the MCU flick instead of whatever's available on rival services like Netflix, Apple TV+, and HBO Max.
Either way, you've got at least a month and a half to go before Ant-Man and the Wasp: Quantumania comes to Disney+ (if not longer). So if you're itching to get to the Quantum Realm or Kang and you can't wait any longer, we'd recommend heading to the movies while you can.
Ant-Man and the Wasp: Quantumania is in theaters now.