Will Andor Season 2 Finally Bring Back a Forgotten Star Wars Hero?
Tony Gilroy could be opening the door for a Rogue One reunion.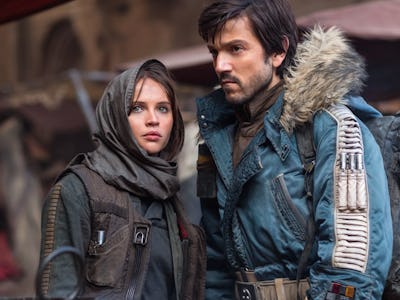 Lucasfilm
Rogue One is a Star Wars unicorn: a standalone adventure set within the larger galaxy, but only loosely connected to the narrative. A flurry of cameos and Easter eggs worked overtime to give the movie a sense of place, but ultimately they weren't necessary. Fans fell in love with its new characters, despite their tragic (and definitive) deaths.
Jyn Erso (Felicity Jones) and Cassian Andor (Diego Luna) became fan favorites, and for years the Rogue One fandom hoped Lucasfilm would find some way to bring them back for another adventure. Sure, they were blown up, but that's just a temporal obstacle, as Lucasfilm proved with prequel series Andor. The series is set before Cassian meets his end in Rogue One, which allows Rogue One characters to appear.
Forest Whitaker's Saw Gerrera has already popped up, as has Cassian's right-hand man Melshi (Duncan Pow). But what about the future members of Cassian's squad, like Jyn or Bodhi Rook (Riz Ahmed)? It's complicated, but still possible.
Felicity Jones has always been game to return as Jyn Erso, though conditions have never been quite right. Squeezing Jyn into Andor's first season would have been too much of a stretch, but Season 2 will take us straight into the events of Rogue One, which makes a Jyn appearance inevitable, right? Well ... maybe. Speaking on BBC One's The One Show, Jones denied she'd play any role in Andor Season 2:
"I'm afraid to say I won't be [in Andor Season 2]. I still have hope for Jyn Erso at some point to make a comeback. But no, sadly I won't be."
Jones' comments seem definitive, but after watching countless stars lie about casting rumors over the years — including Star Wars alum Ewan McGregor — it's hard to take her statement at face value. And a Jyn Erso cameo seems all the more plausible given Andor showrunner Tony Gilroy's comments in the latest issue of Empire. According to Gilroy, Season 2 will culminate in a three-episode block that covers "the last three days before Rogue One." Whether that means we'll see Melshi head off to free Jyn from Imperial imprisonment, or see Cassian collecting surveillance on Jyn's father, Galen (Mads Mikkelsen), the stage is set for a Rogue One reunion.
Jyn doesn't have to appear in Andor: the series is strongest when it ignores its connection to other Star Wars stories, even Rogue One. But Andor is all about telling the story of the Rebellion, and not just through Cassian's viewpoint. The series is a tapestry of disparate perspectives, and bringing Jyn's voice to the story can only add new dimensions to Andor, making it the perfect spot for her to return.