Star Wars Theory Reveals a Shocking First for the Franchise: Werewolves
Ahsoka's new adversaries might not be what they seem.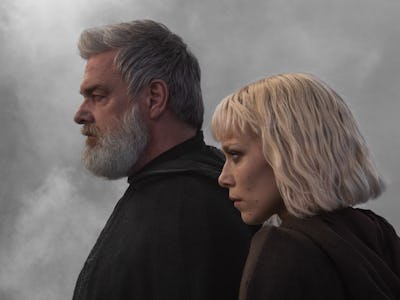 Lucasfilm
With the Empire defeated and Darth Vader gone, you'd think his Inquisitors would be an endangered species. But if Ahsoka has already proven one thing, it's that the Jedi-hunting dark side agents aren't easy to kill.
Ahsoka takes place five years after the fall of the Empire. The New Republic now watches over the galaxy while Luke Skywalker works to reestablish the Jedi Order, but Sith acolytes still lurk in the shadows, searching for a new master. Ahsoka will introduce two new Inquisitors, Baylan Skoll (Ray Stevenson) and Shin Hati (Ivanna Sakhno), and trailers have teased a third. This Inquisitor's identity has been kept under tight wraps, which encouraged a flurry of fan theories. While many believe this new antagonist was actually a figure from Ahsoka's (Rosario Dawson) past — disgraced Jedi Barriss Offee was a top contender — Lucasfilm might have just given the villain a name... and teased an interesting connection to a longstanding legend.
LEGO recently released a new set inspired by Ahsoka's T-6 Jedi shuttle, and with it come a handful of characters from the series. Apart from Ahsoka, Sabine Wren (Natasha Liu Bordizzo), and Huyang (David Tennant), the set also includes a figure of the mysterious third Inquisitor. His name is Marrok, and aside from his interesting armor design and double-bladed lightsaber, that's really all we know. But the name comes with a bit of history, both in Star Wars and in reality.
In The Clone Wars, the bounty hunter Embo had a pet wolf he called Marrok. The name comes from Arthurian legend, where Sir Marrok was a knight of the Round Table. Marrok served King Arthur until an enchantress turned him into a wolf. For seven years he continued to defend the realm any way he could, fighting off wolves and witches before he was restored to human form.
There's no telling whether Dave Filoni (the key creative force behind The Clone Wars and Ahsoka) took much inspiration from Arthurian legend. Embo and Marrok were originally conceived as a tribute to G.I. Joe mainstay Snake Eyes and his pet wolf, Timber, and Filoni's affinity for the deadly assassin remains evident in Ahsoka: Marrok's armor bears a slight resemblance to Snake Eyes'. But it's still medieval in nature, and it's hard to shake the idea that Marrok may be more than just a devout dark knight.
Could Ahsoka be leaning into the supernatural with Marrok's introduction? A space werewolf seems far-fetched, but stranger things have happened. Vampiric aliens already exist in Star Wars, so there could be room for another spooky legend, or maybe Marrok will undergo a more metaphorical transformation. Time will tell, but it would certainly add an interesting layer to the battle between light and dark.
Ahsoka premieres August 23 on Disney+.