Justin Theroux Shares Behind-the-Scenes 'Leftovers' Photos
As 'The Leftovers' ends, Justin Theroux shares fun behind the scenes.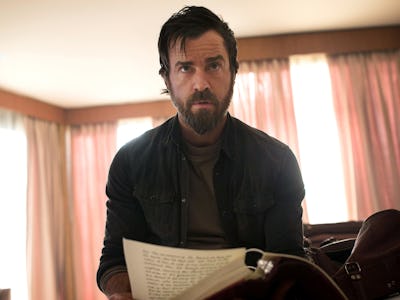 HBO
HBO's The Leftovers has ended after three seasons, wrapping up on the satisfying note of surprisingly offering an answer to its biggest question. That's right, Damon Lindelof has done the opposite of what he did in his previous endeavor Lost. He maintained that The Leftovers would not solve its mysteries — but its final hour offers more answers than anybody was expecting.
The show's premise is simple: two percent of the world's population mysteriously disappears. Its three seasons follow a group of characters left behind as they struggle with grief, loss, and to make sense of a world that suddenly seems meaningless. The sci-fi elements are secondary to the show's emotional elements on purpose, as Damon Lindelof told Inverse. It leaves a legacy as an utterly unique show that exemplifies what television can do at its peak. It's philosophical, viscerally emotional, and experimental, pushing the medium's limits.
In the wake of the show's finale, The Leftovers star Justin Theroux, who plays Kevin Garvey, has released behind the scenes photos on his Instagram. Although Theroux told Inverse about his frequent on-set injuries, his photos demonstrate an atmosphere of fun.
Here, he poses with Carrie Coon, who plays Nora. Theroux's caption, "when we were younger," refers to the series finale, which ages both characters up.
Theroux and Chris Zylka, who plays Tommy, pose with citizens of Jardin Texas, the fictional town Season 2 and the beginning of Season 3 take place in.
Here, Theroux smiles with Liv Tyler, who plays the sinister Guilty Remnant leader (and one-time vice president) Meg.
In this shot from Season 1, Theroux and Ann Dowd film Patti Levin's suicide.
In this group photo, the mixed family of the Garveys and the Murphys pose with Liv Tyler and The Leftovers producer/director Mimi Leder.
Theroux and Ann Dowd have very different demeanors from their often distraught characters.
Carrie Coon smiles between filming that heavy hotel scene in Season 3.
Theroux and Scott Glenn, who plays Kevin Senior, pose on the streets of Melbourne.
And finally, Theroux reveals that the costumed koala in Season 3's "G'day Melbourne" was Damon Lindelof in disguise.
All three seasons of The Leftovers are on HBO.