'Leftovers' Producer Breaks Down the Premiere's Big First Scene
Mimi Leder explains  'The Leftovers' Season 3 premiere "The Book of Kevin."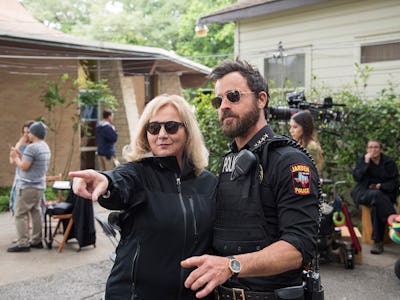 HBO 
Mimi Leder is one of the most important stewards of HBO's The Leftovers. She joined the staff of the drama in the middle of its first season, when "the show was struggling to find its voice as most shows do in the beginning," she tells Inverse. "I helped steer that ship to a place where we all believed the show got to where it wanted to be."
Her leadership — among other things, she hires directors for each episode — helped creator Damon Lindelof steer the show to a Peabody Award in its second season, and she stayed aboard to bring The Leftovers home for its third and final season, which premiered Sunday, April 16. Leder talked to Inverse about making the show, what to expect from Season 3, and what was going on in that silent sequence at the beginning of the Season 3 premiere "The Book of Kevin."
What did you learn from that struggle in Season 1?
It's like a child starting to get up and walk. The child gets up, falls on its face, and then stands up again, and never gives up. Season 1 taught us a lot about what Season 2 should be about. I think it's all character-based and it had more hope. For the second season, I wanted to open the show up more visually: bigger shots, not so claustrophobic. I ran the show in Texas with Gene Kelly, our other executive producer, while the writers in L.A. wrote the show. Damon would come back and forth. It was the same thing with our third season when we knew we were going to Australia.
Speaking of Season 3, let's talk about the first episode, which you directed. Can you explain that silent sequence at the beginning? It's similar to the silent cave woman sequence that kicked off Season 2, only this seemed like a Pilgrim setting?
The Millerites were a sect, a cult, in the 1840s in Adelaide, Australia. They mirrored what we called the Guilty Remnant. They were a cult that were waiting to be raptured. They stood on roofs, they gave up all their belongings, and they believed in a greater life than here on Earth. They believed in something greater than here on Earth, and were waiting to be raptured. They waited and they waited. We didn't put a card on it saying it was Australia, but it was. It was really interesting directing a sequence with no words. Obviously I had actors saying words, but we never heard them. It was kind of a wonderful freedom.
And throughout the first episode, Kevin has flashes to the events of Season 2's "International Assassin." Does that indicate it was real?
There's just clearly something going on in Kevin's mind that is very real to him. I think that is what those flashes indicate that those moments were real.
Since you directed three episodes this season, is there one you particularly enjoyed?
Directing the Scott Glen episode was just something that was so incredibly interesting to me because it was just his character out there in the Outback. There are other characters in it, but it was just an exciting challenge.
What do you want fans to get out of Season 3?
The whole third season is just a wild ride. It'll be up to our small audience to decide whether we succeed it or not. Do I feel like we succeeded? I do. All the things that this show is about you're confronted with — all the mysteries of life. It was great to articulate that visually. The show opens with two weeks away from the seventh anniversary. Is the world going to end? That kind of stuff is really heavy and mysterious. We hope to give some of the answers that people are asking.
The third and final season of The Leftovers is currently airing on HBO.