7 Great Genre TV Shows Returning Summer 2017
From 'The Defenders' to 'Wynonna Earp'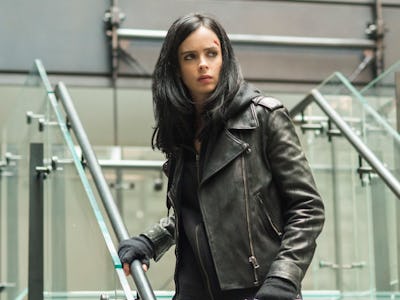 Netflix
Let's address the elephant in the room: Game of Thrones, which is currently the biggest show in the world, has moved from airing in the spring to the summer. This means that if Jon Snow and Daenerys Targaryen bang or Cersei dramatically blows up another city, Westeros gossip will dominate summer TV buzz. But if you don't watch the fantasy epic or if you hunger for other shows too, there are plenty of alternate options. Dragons don't need to be the only fictional creatures to help you escape the heat.
Summer 2017, as it turns out, is brimming with excellent genre fare, from deep sci-fi and fantasy to surreal small town westerns. From returning favorites to new rookies, here's your essential guide to the hottest genre television of the summer.
1. 12 Monkeys
The time-traveling sci-fi show, based on the 1995 movie of the same name, has only amped up the intrigue with each passing season. The end of Season 2 saw the death of Deacon and Railly facing an uncertain future in 2163 as Cole frantically attempts to follow her. The stakes are higher than ever as Season 3 approaches.
Premiere date: May 19 on Syfy.
2. Twin Peaks
The revival of David Lynch's cult hit two-season show has been hotly anticipated for only 25 years, no big deal. This limited series will be eighteen episodes long, featuring most of the original cast and David Lynch at the helm. Expect copious surrealism with little explanation. You technically don't need to see the original to hop on this train — but expect your friends who have to make smug comments if you don't.
Premiere date: May 21 on Showtime.
3. Shadowhunters
At the end of the first half of Season 2, Jace learned that he actually isn't Clary's biological brother, which makes their romance much less weird. Right when he went to break the news to her, however, he found her sharing a tender moment with her new boyfriend Simon. Bad luck, Jace. This "moment" came because Simon discovered that even though he's a vampire, he can suddenly withstand the sun. Season 2B will see tensions escalating further between Shadowhunters and Downworlders.
Premiere date: June 5 on Freeform.
4. Wynonna Earp
The first season of this supernatural horror-western was a revelation. It was an unabashedly feminist superhero show featuring a female gunslinger that was a blast to watch. Its second season isn't pumping the breaks anytime soon, as it's amping up the demons and the quippy one-liners.
Premiere date: June 9 on Syfy.
5. Midnight, Texas
This new supernatural show is based on a series of books by Charlaine Harris, who also wrote the books True Blood was based on. Like True Blood, it pits a variety of supernatural species against a small-town backdrop. Although it's not a cable show, it looks every bit as outlandish and quirky.
Premiere date: July 24 on NBC.
6. Blood Drive
This new science fiction horror pulp show is Mad Max by way of Quentin Tarantino. As a self-proclaimed "grindhouse" series Blood Drive isn't taking itself too seriously. It has the outlandish concept of a bleak dystopian future where cars run on human blood.
Premiere date: June 14 on Syfy.
7. Marvel's The Defenders
After Netflix has meticulously laid the groundwork in four separate superhero origin stories, Jessica Jones, Luke Cage, Matt Murdoch, and Danny Rand will finally come face to face. There will be awkward dinners, hallway fights, and snarky comments galore as the four disparate personalities combine their unique skill sets.
Premiere date: August 18 on Netflix.
And of course, the seventh and penultimate season of Game of Thrones will begin its seven-episode run July 16th on HBO.