How Wynonna Earp Became the Best Superhero on Television
It's fun, it's unapologetically feminist and inclusive, and it's a goddamn delight. 'Wynonna Earp' is the superhero show we deserve.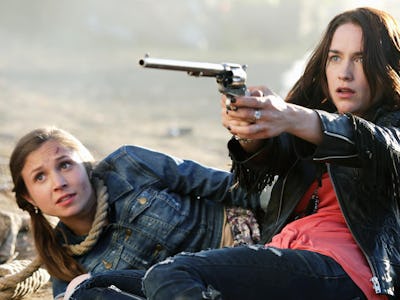 Syfy
As far as I know, no one watches TV to be miserable. TV is a lot of things to a lot of people, but by and large, the intent is to entertain and — on the best days with the best episodes — to enrich.
Even so, if you're queer or a woman or fall somewhere outside of "straight white male", it can be difficult not to feel disheartened when your onscreen representation is exploited, silenced, discounted, shoved into the background, abused, harassed or killed. It happens all the time, sometimes more dramatically than others, but frequently, nonetheless.
So when a show comes along that changes things — really, radically changes them — it stands out. It grabs our attention. Right now, that show is Wynonna Earp, and it's a goddamn delight.
A supernatural western based on the IDW comic book series by the same name, Wynonna Earp follows the eponymous great granddaughter of legendary U.S. Marshal/old west gunslinger Wyatt Earp. With the help of Wyatt's gun "Peacemaker", Wynonna (Melanie Scrofano) is tasked with sending the Revenants (Wyatt Earp's past kills, come back as demons) back to hell.
Wynonnas sister Waverly (Dominque Provost-Chalkley) — who is crazy well-read and has done a metric fuckton of research on Revenants — joins the cause, along with Agent Dolls (Shamier Anderson) of the U.S. Marshals Black Badge division. Together, they tackle threats both mortal and immortal, and do their best to safeguard Purgatory(/the world) from the Earp curse, which usually ends in Wynonna opening up a literal fiery pit of hell with dear old Wyatt's gun.
As you can imagine, it's a damn good time. Wynonna Earp is fun and smart and sharp and has a serious thing against taking itself too seriously, but most importantly, it is unapologetically and uncompromisingly feminist. Not in the sense that it's made exclusively for women, but in the sense that it sure as hell doesn't attempt to appease or cater to a male audience at the expense of its female stories and characters.
One of the strongest narrative themes of the show is the bond between the Earp sisters. Wynonna, headstrong and reluctantly heroic, is fiercely protective of Waverly, despite their sometimes-complicated relationship. Brave and with a moral compass that points True North more than she'd ever cop to, Wynonna is a hero feels unlike any other on TV and brings a nuanced levity to the world of genre television.
Waverly, who is kind, unfailingly optimistic and a low-key badass, is an unfettered joy to watch onscreen. Provost-Chalkley's rendering is pitch-perfect and the dynamic between Waverly and Scrofano's Wynonna makes for some of the show's best scenes. Wynonna Earp is goofy and fun but its work in the sisterly bond between Wynonna and Waverly hits all of the right notes with sincerity and humor that reads magnificently in the wider context of the show, and the focus on that bond is among the show's sharpest elements.
Another standout element of Wynonna Earp comes in the form of Officer Haught (Katherine Barrell). Introduced in the second episode, Officer Haught (pronounced "Hot") is a local deputy who is queer, confident, sexy, bold, totally the opposite of subtle, and finds herself wrapped up in the goings-on of the Black Badge division (and Waverly Earp).
In the landscape of LGBT characters on TV, she's a standout. She's not tortured or self-hating, and her sexuality isn't "hinted at or "implied" — she struts into Shorty's bar knowing exactly what who she wants. It's damn near unprecedented and a welcome relief given the current climate of queer characters on television.
Scenes between Haught and Waverly are electric and thrilling and Haught's inclusion feels incredibly significant not only because there are so few queer female characters on television (with the already small number dwindling), but because among those few characters, even fewer are given the kind of bold self-assuredness we see in Haught.
It sends a message loud a clear: queer women are a part of this ass-kicking universe. It's more than representation for representation's sake — it's inclusion in the form of queer female characters who are heroes. Given the loss of Lexa on The 100, it's the representation we need.
Positive representation is a crucial element of our experience through media and art and entertainment. Being able to see ourselves in characters onscreen doing things that matter or that we admire or that inspire us is profoundly affecting, and the absence of that representation in front of and behind the camera is deeply felt.
In the words of Selma and Middle of Nowhere director Ava DuVernay, "The work that we do affects the way that we see ourselves and the way that we are seen. It's a vital work. Women making film is a radical act."
Creator and showrunner Emily Andras (Lost Girl, Killjoys) and the team behind the show have brought to life a world that not only includes women, but puts them at the forefront with compelling characters who have something to say. It's garnered comparisons to Jessica Jones and Buffy the Vampire Slayer and fits somewhere between the two. So yeah, it's a goddamn delight alright.
Wynonna Earp is a dramatic departure not only from comic book adaptations as we know them, but from television as a whole. There aren't many shows that put women at the forefront and give them developed, considered plots, the best lines, and a lot of ass-kicking to do. Wynonna Earp is different and special and proves that TV can and should be fun and insightful and inclusive and female.
Make no mistake: Wynonna Earp is a radical act, and we can't wait to see what happens next.
Wynonna Earp airs on Fridays at 10/9c on Syfy.