Why the New 'Twin Peaks' Will Save Reboot Culture 
There is no way the fully David-Lynch-directed Showtime season can be another 'X-Files.'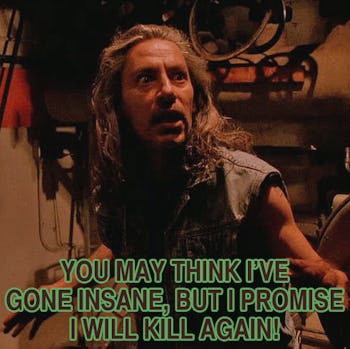 'Twin Peaks' Facebook
No doubt The X-Files reboot only got you more nervous about reboot culture. A satirical newspaper posted about a Mrs. Doubtfire remake with Jonah Hill and I believed it. Anything is possible. In the middle of all this terrible mess of nostalgic television, there is the looming specter of David Lynch's 2017 Twin Peaks season, the show the world is celebrating today on "Twin Peaks Day." Lynch's project may be the only good thing to come out of the reboot trend. Yes, we're certainly counting our chickens, but there are reasons to be hopeful.
Remember, Lynch is directing all of the episodes.
Sure, there are 18 in the works! It might be too many, but according to Lynch's contract, he will be helming all of them. He and co-creator Mark Frost will be writing as well. We assume they'll hold off release until they've got it exactly as they want it; they have been in production for a while and the release date has been pushed back into next year sometime.
Season 2 of Twin Peaks is generally written off and denounced because of Lynch's lack of involvement (I personally believe it has a certain, absolutely ludicrous charm). Lynch's specific influence is unmistakable, and with the exception of the studio-compromised Dune, he gets what he wants. Without the restrictions of network television on Showtime — and a contract he seems to have fought for tooth and nail — he will presumably get the longest leash possible.
It won't be generic fan service.
If the main problem with TV reboots is that the rehashes often turn out to be dull, there's no way whatever Lynch looses on us is going to be fan service-y hogwash. That much was proven by 1992's Fire Walk With Me, which answered precisely none of anyone's lingering questions question Season 2's disturbing finale. Lynch is someone everyone wants to follow his own muse; even if you don't like his last major project, 2006's Inland Empire (incorrect take, by the way), it's hard to have anything but respect for him making it.
The cast is impressive, and people seem very committed.
There are a lot of famous faces in the cast. All of the old favorites are slated to be back — sans the late Catherine Coulson, Michael Ontkean, and Lara Flynn Boyle — plus a promising casts of newcomers including the great Laura Dern and Amanda Seyfried. People want to work with Lynch, and the cast begged him to return to the project after he announced he was leaving due to contract issues last year.
All in all, we can expect something better than the half-assed Arrested Development reboot situation, in which it seemed like no one was in the room at the same time. A lot of people are invested in this project, excited to work with one of the greatest working American directors, who hasn't made anything for a decade.