Kanye West's 'The Life of Pablo' Is His Best Album
Kanye premiered his newest record at Madison Square Garden. We were there.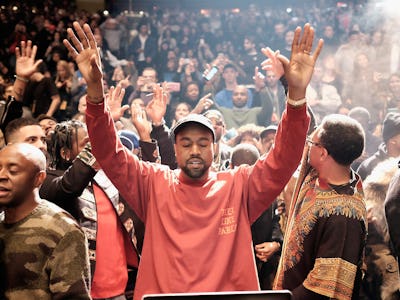 Dimitrios Kambouris/Getty Images for Yeezy Season 3
Kanye West makes it difficult to be a Kanye West fan. Just when it appears he's earned goodwill for potential presidential runs or when he's backing up his mouth with undeniably amazing songs, he drops a brick. That brick could be his belief that he owns another rapper's child. It could also be his ignorance in defending a monster's innocence. Whatever it is, Kanye West will do something inexplicable to test your faith and your patience.
But God wasn't very kind to Job. And Job didn't decide to go out and buy a J. Cole album when life got rough. Yesterday, Kanye West debuted his ridiculously-titled new album The Life of Pablo at a massive and star-studded event at Madison Square Garden. And for all his antics — many inexcusable — West delivered with what may be his greatest album yet.
Ebro of Hot 97 may have said as much already, but, sonically, it's got bits from across West's discography. There's the earth-rattling bass of Yeezus, the Auto-Tuned melody of 808s & Heartbreak, the no-fucks-given attitude and confessional vibe of My Beautiful Dark Twisted Fantasy, the soul-sampling of Late Registration, and the wordiness of The College Dropout. Still, The Life of Pablo coheres into its own brand new body of work.
Beyond the sonics, however, was the entire experience. The event began late and the seats were fairly empty for a long time — no doubt because of the snaking merch lines in the arena lobby. We were left to stare at a giant mysterious bubble for nearly an hour.
Suddenly, applause began: Kardashians. Soon enough, West arrived and the bubble was opened up. Under that bubble was an army of models — unflinching, deadly serious, still kinda casual. Among the models were Naomi Campbell and Young Thug. Kanye West, of course, was not going to employ just street models for Yeezy Season 3.
West then spoke briefly, but ultimately just hit play on a laptop and let The Life of Pablo play out of his laptop. Static was audible, at times, when a new makeshift DJ took command of the venue's AUX cord.
The album will be available at some point today, and, as it turns out, the whole thing streamed on Tidal. Nevertheless, actually being present for Yeezy Season 3 was an incomparable experience. Feeling the bass throughout my body. Losing it when West used Desiigner's "Panda" on the album. Simply seeing the absolute joy on others' faces, too. It's not something you could get from a computer stream or one of the worldwide theater screenings. When West announced his Only One video game, for example, about his mother's journey through Heaven's gates, you could feel his need for approval. He was like Jeb Bush asking for applause when the response was lukewarm at best. "This isn't regular!" he proclaimed.
And it wasn't regular. West talks about being on antidepressants on the album. He also says he should sleep with Taylor Swift — something for which he's taking heat before the album's even out. But those are not things regular artists would — or even could — do. People will, undoubtedly, love this album — myself included. It will have embarrassing moments. It will be desperate at times. But that's a Kanye West album.
Kanye West does not compromise. Were the clothes actually any good? Who knows, but there were hundreds of models there wearing them anyway. Could he have dropped it traditionally and still been great? Probably.
Yeezy Season 3 was the amalgam of all things West: big, bold, unnecessary, amazing, insane, questionable. Everything he's ever wanted to be.