Ebro From Hot 97 Heard Kanye West's New Album and Here's What He Revealed
Hot 97's Ebro spilled some beans about Kanye West's 'T.L.O.P.,' Ray J references, and plenty of politics.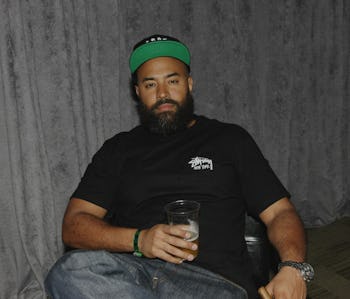 Bennett Raglin/Getty Images for D'USSE
On NYC hip-hop radio station Hot 97 today, morning show host and polarizing personality Ebro divulged some inside information about the new Kanye album, T.L.O.P., which he heard at a private listening party. Other attendees of the party, according to Ebro, included A$AP Rocky, Tyga, Kim Kardashian, and, of course, North West.
Ebro was at liberty to discuss only some of the details of the record which he specified in a tweet, "Might be the best album." He claims to have heard it four times. The best album ever, Ebro, or the best Kanye album? It would need to be the former, given the fact that Kanye's career seemed like it might be over after last night's tweeting. Here's what the Hot 97 host specified about the new album.
Ebro recalled one of the album's most incendiary lines: "Me and Ray J would probably be friends if we wasn't in love with the same bitch/You might have hit it first but I'm riiich." Cold — definitely maybe "the best album" for that one.* These kind of potshots supposedly offset more socially conscious lines. No surprises there.
He samples the film The Warriors. "We're 60,000 strong," and so on. This is, supposedly a springboard for verses that deal with contemporary racial and other social issues.
As the previous point might imply, It's a "rap-heavy album."
T.L.O.P. is a little bit of "everything you love about Kanye West." Thanks, Ebro, helpful.
It's more melodic than Yeezus, a bit closer to My Beautiful Dark Twisted Fantasy. We can infer that from most of the songs we've heard so far.* There are some "Chicago representatives" on the album. Lil Herb? Lil Durk? King Louie? Jeremih? We're already [pretty sure about Chance the Rapper.]
Obama is not on the album.
"What's his sample game like?" co-host Peter Rosenberg asks. Like "Real Friends," the samples "live off the beat he's already put there," rather than driving it. So maybe some more Madlib-like material in store.
Rosenberg then summed up what anyone listening must have been thinking, claiming that Ebro's description was the "least cohesive, most difficult to understand, useless description" of the album.
Ebro then weighed in on Kanye's "Cosby is innocent" tweet: "Technically, the verdict is out." Sick move. What a reliable source! In any case, most people will get to hear this thing tomorrow and judge for ourselves.