Kanye West and Wiz Khalifa Have a 'Waves' Problem
Analyzing the "waviness" of Kanye West according to the dicta of Wiz Khalifa and Max B.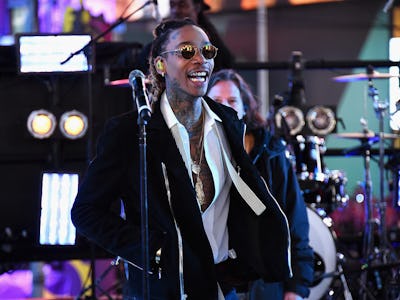 Nicholas Hunt for Getty Images North America
Pittsburgh rapper Wiz Khalifa felt the need to set the record straight on Twitter last night, shortly after Kanye West switched the name of his upcoming album to Waves. Khalifa's objection was not based on the fact that the name — simply objectively — seems inferior to either Swish or So Help Me God, the previously rumored titles of the record. This, certainly, has been the criticism of others, but Wiz's beef is that "waves" have a rich lineage in rap music that Kanye's music is far from fitting into. At least, he needs to acknowledge its existence.
It might be possible to trace it back further, but Wiz sees it as arising from influential Harlem rapper Max B, now long-incarcerated but no less beloved.
Kanye's eventual acknowledgement elicited no more than a "Yea aight" from Wiz.
'Ye then implied that some other artists were on Max B's level of "waviness," though the claims seem unsubstantiated. Perhaps, though, he just wanted to name a bunch of New York artists to pretend like he wasn't exclusively responding to Wiz's criticism.
Don't call anything "waves," argues Wiz, unless you let Max B's spirit flow through you. His extended Taylor Gang family members Ty Dolla $ign and Joe Moses did it earlier this month on their track, "Wavy," for instance, though it really sounds very little like Biggaveli:
One might argue that the term "wavy" has, by this point, gone far beyond "The Wavy One" into the general lexicon of rap slang. Also, it would be very reasonable to claim that the term "Waves" is very different from "wavy" and has a different affect. But it's true that waves are generally soothing, and imply a central relaxed mellifluousness that is nowhere near Kanye's music these days. A relaxed soul sample or a Madlib beat — see "[No More Parties in L.A.]"(https://www.inverse.com/article/10320-no-more-parties-in-l-a-is-kanye-west-s-best-rap-song-since-my-beautiful-dark-twisted-fantasy) — is the closest we get, but Kanye can't rap chill, and never really has, no matter how far back you go.
Nor does he attempt Max B's signature, appealingly detuned crooning — the stylistic signature which makes his work so instantly recognizable.
Whether you give a shit about Max B and the Coke Wave tapes or not, perhaps we can agree that Kanye made an odd and misguided choice with this name change. Swish implied triumph, cockiness, and the "rock status" for which he's been gunning in earnest for the past seven years or so. So Help Me God was imposing and Pusha T-like, a name that made sense as a followup to Yeezus.
Waves may evoke — to some extent — the content, domestic Kanye, but nothing we've heard from the record points to that being borne out in the music. Bring back Swish, 'Ye. There's still time. If you don't, you better deliver "real waves," or Wiz Khalifa, your ex-girlfriend's ex-husband, will guilt you with more YouTube links. No one likes that.