Apple Music Takes Tidal's Idea, Does It Better
Apple may introduce high-quality streaming in 2016, but that's the least important part.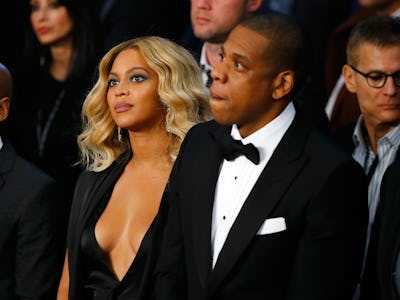 Al Bello/Getty Images
As anybody who saw Danny Boyle's Steve Jobs biopic this past summer knows, Apple has succeeded by taking others' ideas and making them nicer-looking, easier to use, and consumer-friendly.
Now, according to a report from Japanese blog Macotakara, the tech giant will once again improve on an idea cribbed from a competitor: Apple is reportedly toying with the idea of offering very high-resolution audio streaming exclusively on Apple Music (96kHz/24bit, to be exact) some time in 2016. Sound familiar? Competitor Tidal's entire shtick has been top-of-the-line streaming audio.
The 96kHz-rate would be more than twice as good as CD-quality — typically held up as the best option for listening — of 44.1KHz/16-bit, according to Billboard. That CDQ is what Tidal uses to tout itself as the premier streaming option. (For what it's worth, the Inverse staff couldn't tell the difference between sound qualities.) However, TIDAL has had trouble delivering the service; given that delivery is costly, Apple may be better prepared to weather the storm and provide the larger files.
While the files would take longer to load and use up more storage, it's much likelier that listeners could hear better quality if it were that much better. In addition, the upgrade could come with hardware changes to Apple products, as Macotakara previously reported that the company had been considering ditching the traditional headphone jack for a Lightning port that could support up to 192kHz/24Bit audio. The hardware change would be the best way for Apple to get listeners to get on board with their high-quality endeavor. The casual listener may not care about hearing every minute detail in a song, but she'll definitely want another iPhone once hers is obsolete.
Unlike Tidal, Apple actually has some bargaining power in implementing top-end streaming. For one, customers are loyal and may just get on board with whatever Apple does. Further, if it's a requirement for improving your current Apple technology, there's a much better chance that it catches on. The better audio quality may actually be the least important part of Apple trying to up its audiophile chops. The giant has simply internalized and swallowed another company's idea and made it better. We're fine with that.