Netflix's Stunning Fine-Dining Thriller is Equal Parts Chef's Table and Whiplash
Class warfare returns to our screens in this simmering slow burn.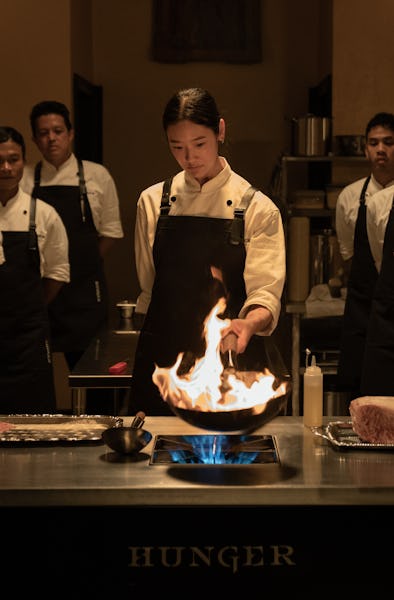 The practice of skewering the rich has become a favored past time on film and TV. These past few years have been saturated with eat-the-rich satires from all over the globe, from Parasite to Triangle of Sadness and The Menu. Quite a few of these projects use food as a means of demonstrating the gap that separates the 1% from the rest of the world — and say what you will about The Menu, but it took that theme to a new level by setting its conflict in the fine dining scene.
Now, there is Hunger, a Thai foodie thriller that combines the gorgeous, mouth-watering cinematography of Netflix staple Chef's Table with the obsessive artistry and toxic student-master dynamics of Whiplash. Aoy (Bad Genius's Chutimon Chuengcharoensukying) is our obsessed artist in question — though when she's first introduced at the beginning of Hunger, she's far too busy to entertain any notions of ambition. She's the de facto head chef at her family's humble noodle restaurant, and she spends most of her days spinning a wok over an open flame, churning out plate after plate of pad see ew. On paper, the menu's not anything special: they're meals that their working class community can scarf down quickly before getting back to the grind. Their food is fuel, conceived of necessity but made with a lot of love. But some dishes have been passed down for generations, and Aoy has since honed them with her own exceptional (if underrated) skill.
Aoy goes into a trance in front of the flame. She was forged by this fire: it's all she's ever known, but she's conquered it a hundred times over. Now, she hungers for something more — but it's hard to believe that you're meant for better things, that you're special, when everyone around you seems so content with mediocrity.
Everything changes when a well-to-do patron, Tone (Gunn Svasti), sets foot in her restaurant. Tone is the junior sous chef at Hunger, an elite catering team run by the brutal Chef Paul (Nopachai Jayanama) — and he only needs to try one bite of Aoy's pad see ew to know she's got the gift. Tone recruits her on the spot, but he's not the only one she's got to impress. Under Chef Paul's tutelage, Aoy will come face-to-face with the highs of absolute artistry ... and the horrors of unbridled ambition.
Chef Paul is the latest incarnation of the domineering food tycoons that we all gleefully love to hate. It's hard not to think of Gordon Ramsey, watching him assault his underlings with serrated insults and scalding pots and pans. But he's much more than a culinary tyrant. He's a showman; an alchemist. His cuisine is as much about the performance and presentation as it is about the flavor — and it gets a primal reaction out of all the upper crust snobs that sit at his table.
Cuisine has always been an effective hierarchal enforcer, but in a way it's also the great equalizer. Great chefs can rise from the slums on the strength of their craft alone. No matter your status though, you're still, to a degree, a servant. Chef Paul understands this better than most, and he's found a way to exploit it for his own gain. He creates cuisine as a method of revenge. After years of being overlooked by the upper crust, now they eat from the palm of his hand. It makes him an interesting foil to Aoy, who's been taught to prioritize love in her dishes above all. Their conflicting outlooks allow Hunger to touch on a lot of tangential topics: corruption, control, and complicity among them. But the film is at its best when it focuses on their shared appetite for exceptionalism.
Hunger is the classic Faustian fix, and it paints its central conflict with broad, familiar strokes. Can Aoy feed her ambition without losing her soul? the story asks. How will she elevate herself to Chef Paul's level without becoming him? For audiences familiar with this particular cautionary tale, it can really only go one of two ways. The film isn't exactly subtle about the themes it wants to cover — but its simmering performances and stunning cinematography, along with the specificity of its world, help Hunger rise to the top.
Hunger is now streaming on Netflix.