Jill Stein Is Losing to Harambe and Deez Nuts in Texas's Presidential Race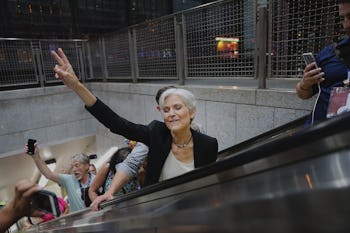 Getty Images / Spencer Platt
Who's leading Green Party presidential candidate Jill Stein in Texas polls? The results are in: a dead gorilla and Deez Nuts.
Wait. Let's back up.
Democratic-leaning Public Policy Polling (PPP) surveyed some 944 voters in Texas earlier this week, from August 12 to the 14th, about their preferences in the upcoming presidential election. Between Republican Donald Trump, Democrat Hillary Clinton, and Libertarian Gary Johnson, Green Party presidential candidate Jill Stein drew a mere 2 percent of the vote.
The poll later asked respondents about a hypothetical set of candidates besides Trump and Clinton, which included Harambe, a 17-year-old Western Lowland gorilla who was shot and killed this past May in the Cincinnati Zoo after a 3-year- old boy fell into his enclosure; and fictional Independent party candidate "Deez Nuts," the imaginative creation of 15-year-old high school sophomore Brady C. Olson that managed to secure a decent 8 and 9-percent in polls in Iowa, Minnesota, and North Carolina in 2015.
Stein, a retired physician who graduated magna cum laude from Harvard University, tied with Harambe with 2 percent of the poll, and both were beaten out by Deez Nuts, who managed to secure 3-percent. Although to be fair, both of Stein's neck and neck competitors have solid fan bases of their own.
In the weeks since Harambe's death, mourning for the gorilla has evolved from outrage to meme, with over-the-top memorials suggested in his honor. Tens of thousands of people have signed petitions to put Harambe's face on the $50 bill, turn him into a Pokémon, erect a statue of him at the White House, and rename Cincinnati itself no less than "Harambe City."
Deez Nuts, who hails from Wallingford, Iowa, according to his Federal Elections Commission filing, is registered as an Independent. Mr. Nuts's political platform is one in favor of gay marriage and balanced budgets, and against oil subsidies and illegal immigration.
Among Texans who participated in the poll, Donald Trump received 44 percent and Hillary Clinton received 38 percent of points. It is unclear whether or not either Jill Stein or Gary Johnson — or Harambe or Deez Nuts — will be able to secure the 15-percent support necessary to qualify to participate in the upcoming presidential debates. But hey, it's 2016. Anything could happen.