Zoo Recovers Sperm From Gorilla Killed
The legacy of Harambe the gorilla, killed at the Cincinnati Zoo, will continue.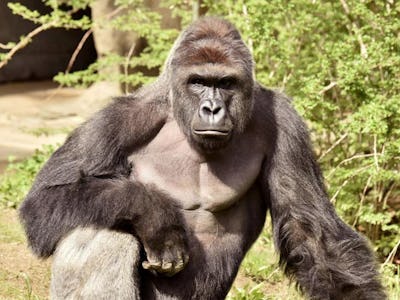 Cincinnati Zoo/Handout via Reuters
The death of Harambe the Gorilla was a tragedy for the Cincinnati Zoo, but also for worldwide efforts to save Silverback Gorillas. With numbers of the "critically endangered species" below 400,000 worldwide, at 400 pounds Harambe represented a promising opportunity for conservation groups to encourage captive breeding. But at just 17 years of age, Harambe had not yet reached sexual maturity and met his unfortunate end before rearing any offspring.
Reproductive biologists from the zoo's Center for Conservation and Research of Endangered Wildlife were able to rescue viable sperm from his body. Harambe's legacy may carry on in the lives of offspring, conceived through artificial insemination, in zoos around the world.
As often happens in endangered species, silverback gorillas face a dire need for population diversity, and Harambe's specimen should help keep the gene pool mixed.
"There's a future," Thane Maynard of the Cincinnati Zoo told reporters on Monday. "It's not the end of his gene pool."
It may be little solace to those who are mourning the loss of Harambe, but from a conservationist point of view, it's an important victory. Harambe was never going to be forgotten, but now, thanks to science, he's only gone for the moment.
A four-year-old boy fell into Harambe's enclosure at the zoo on Saturday, and the gorilla dragged the boy around and then later appeared to gently touch hands with him. Zoo officials used lethal force on the gorilla.
"The Zoo security team's quick response saved the child's life. We are all devastated that this tragic accident resulted in the death of a critically-endangered gorilla," Maynard said in a statement. "This is a huge loss for the Zoo family and the gorilla population worldwide."
The boy is expected to recover from his injuries.