Deez Nuts for President? The Polls Say This Race Is Officially a Cartoon
Who's running, you say? Deeeez Nuuuts!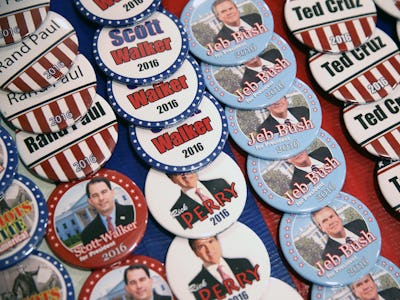 Getty Images
In July, we were greeted with mind-blowing headlines like this, from CBS News: "Deez Nuts is running for president." So, good. But, wait, what's that? Now, he's actually climbing the charts? In North Carolina, Mr. Nuts is polling at 9 percent. Running as an independent out of Iowa, the man — who allegedly is legally named Deez Nuts — is polling better in the Tar Heel state than Republicans like Carly Fiorina, Mike Huckabee, and Scott Walker, as well as Dems Jim Webb, Lincoln Chafee, and Martin O'Malley. Deeeeez Nuuuuts (say it with me now) is also polling at 8 percent in Minnesota and 7 percent in Iowa, which makes some news organizations have to do things like this:
If you're not in on the gag, the phrase can be traced back to Dr. Dre's The Chronic and the tune, "Deeez Nuuuts." It features a crank call on the front end that became a widespread move (Internet personality WelvenDaGreat reignited the phenomenon earlier this year). As if Dr. Dre wasn't making enough headlines this week already.
Now, the "clown car" is even more crowded, more ridiculous. Granted, Nuts is running as an independent and not as a Republican, but his candidacy filing, itself, has me writing "Nuts" as if it is his real last name.
As Trump has proven this year, anything is possible. Today's polling will lead to more talk about Deez Nuts, which will lead to larger numbers for the candidate. Citizens surely feel like politicians aren't taking them seriously, so why should they take politicians seriously? It gives a whole new meaning to looking at the field and sighing about all "these nuts" who are running. Who's running, you say? Deeeez Nuuuuts!