Coachella Will Have a Massive Lineup Because It's Not a Music Festival Anymore
LCD Soundsystem and Guns N' Roses headline the biggest 'music' party of the year.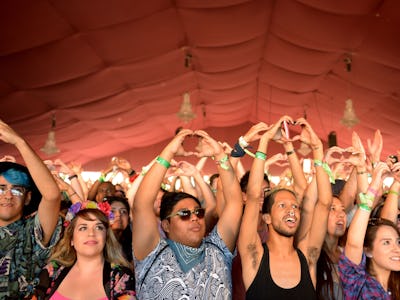 Matt Cowan/Getty Images for Coachella
Get your flower crowns ready: The Coachella Valley Music and Arts Festival returns to sunny Indio, California once again this spring. Although the festival's lineup announcement typically garners a great deal of hype, the 2016 fest is particularly special. Both LCD Soundsystem and Guns N' Roses will reunite for the first time in years to headline the event. Throw in Calvin Harris — the bane of my existence — and there's almost literally something for everyone.
But is going to Coachella really worth it?
Beyond the headliners, the Coachella lineup is pretty much a fill-in-the-banks for appealing acts. Hip-hop heads? In addition to an aging, Ride Along 2-starring Ice Cube, there's A$AP Rocky, Run the Jewels, Rae Sremmurd, Joey Bada$$, and plenty more. EDM type? Check out Jack Ü (Skrillex and Diplo's combo act), Disclosure, Zedd, or something more classic like Underworld. Somber indie kid? Sufjan Stevens, Edward Sharpe, and Matt and Kim are all playing. Courtney Barnett's there for tougher indie folks, too.
The lineup is basically fucking endless. But does that massive all-inclusive endeavor mean that Coachella is still special? No.
As recently as the 2000s, Coachella actually had some curation, as compared to today's "throw money at popular artists and see who says 'yes'" technique. In 2009, for example, there was a pretty clear "old acts we still love" bent when Paul McCartney, Morrissey, the Cure, Leonard Cohen, and My Bloody Valentine all played. Supporting acts, like Girl Talk, Crookers, and MSTRKRFT, were relegated to smaller tents for the (kind of) niche interests.
Coachella 2016 lacks any of that curation. It's also incredibly expensive. General admission starts at $399. If a diehard GNR fan wants to see Axl, Slash, Duff, and the gang back together, they can wait for the inevitable reunion tour. LCD Soundsystem has already explicitly said they will tour, for likely cheaper prices and without the cost of accidentally rolling on Molly through an RL Grime DJ set.
Coachella is appealing to someone who wants to go to Coachella — regardless of who's playing. Coachella is its own entity outside of music. Fest organizers can bring in all the big names they'd like. LCD and GNR are not selling tickets. Peace, love, drugs, and selfie opportunities are.