Axl Rose and Slash to Reunite as 'Guns N' Roses'
The two will lead GNR live at Coachella 2016.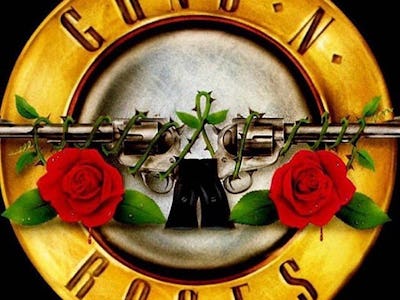 instagram.com/concertcrap
Musicians Axl Rose and Slash will reunite and perform as Guns N' Roses at the 2016 Coachella Music & Arts Festival in Indio, California, as reported by several sources.
The band formed in 1984, with frontman Rose a founding member and lead guitarist Slash joining shortly after. Slash last played live with GNR in 1993, and officially left the act in 1996—while Axl, the legal owner of the band's moniker, has continued to perform and record as Guns N' Roses, with other players.
Suspicions that a GNR reunion was soon to happen were raised recently when a teaser trailer featuring crowds of concertgoers swarming to soundbites from the band's signature song "Welcome to The Jungle" played in movie theaters showing Star Wars: The Force Awakens —and when gunsnroses.com was updated with a front banner containing the group's original pistols-wrapped-in-thorns logo.
Billboard has confirmed the reunion.
The Coachella festival runs April 15-17 and April 22-24, 2016—but Billboard also states Guns N' Roses is further negotiating to play more than 20 different North American venues as part of a stadium tour scheduled to run during the summer of 2016—asking for earnings in the order of $3 million per show.