A$AP Rocky Rediscovers 'Live.Love.A$AP' on 'A.L.L.A.'
The Harlem rapper returns to his roots on his new album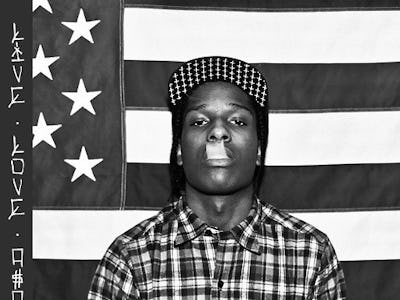 LiveMixtapes.com
A$AP Rocky found early success with his 2011 viral hit "Purple Swag." The song was irresistible with its Houston-influenced codeine drip beat and Rocky's laidback cool flow. The Harlem native born Rakim Meyers didn't want to be just another New York rapper at a time when the scene was fairly desolate. He identified his favorite aspects of the Texas subgenre, amplifying and translating them for a more general audience. We soon found out that the mastermind behind Rocky's sound was Steven "A$AP Yams" Rodriguez, founder of the A$AP Mob. A tastemaker built for the 2010s with a successful rap Tumblr, Yams was unafraid to appropriate regional cultures for a wider audience. Not simply blatant theft, Yams paid tribute to his influences through reinterpretation while keeping core values intact.
With Yams working behind the scene, Rocky delivered on his early promise with his Live.Love.A$AP mixtape. Most notably, Rocky took influence from the chopped-and-screwed beats of Houston and the darkness of acts like Cleveland's Bone Thugs-n-Harmony. The mixtape also introduced Rocky as a bastion of cool. His coolness, though, didn't just come from working with the best producers and creating an unambitious, universally liked-not-loved album; in-house producer A$AP Ty Beats and a still-up-and-coming Clams Casino were fixtures on Live.Love.A$AP. Rocky's style was so attractive to listeners because of his willingness to take risks. "Get Lit," for example, features Houston local favorite Fat Tony talking trash – not the most high-profile guest star – and features distorted, deepened vocals, as well as a synthesizer beat that swirls atop the track instead of ever really dropping in. Rocky stayed true to his influences, warping them through his own prism.
Rocky followed up his debut mixtape with his debut album Long.Live.A$AP in 2013. The gold-certified album was wildly successful, topping the charts and spawning his biggest single to date, "Fuckin' Problems." It had singles, but the album was a major letdown for anyone who anticipated artistic development from Rocky. His brand was notably absent. The darkness remained, but in a more manufactured form – less a product of influence and more of a product of industry.
A$AP Yams died in January 2015, but Rocky's sophomore album, At.Long.Last.A$AP was mostly finished by then. Yams is credited as the primary executive producer for the album, a true return to form for Rocky. He is more willing to take the chances that he took on Live.Love.A$AP, fulfilling Yams's vision. "L$D," a sung pop song, is so far out of Rocky's traditional wheelhouse that it is actually more like the first mixtape. He sings from the heart, not the wallet. "Lord Pretty Flacko Jodye 2 (LPFJ2)" is the type of rap banger that was absent on Long.Live.A$AP, but is reminiscent of "Brand New Guy" or "Palace" from his true debut.
Live.Love.A$AP felt very of-the-moment when it dropped. Rocky didn't have to go through the same process as most rappers. He didn't have any come-up mixtapes— Rocky just arrived. He began and ended a genre (i.e., cloud rap) and introduced A$AP Ferg to the world. With access greater than ever, Rocky showed on Live.Love.A$AP that the best path toward success was taking the sounds you love and pushing them even further.