5 Rap Albums That Deserve 33 1/3 Books 
Revising the 33 1/3 catalogue beyond guitar and more for #bars.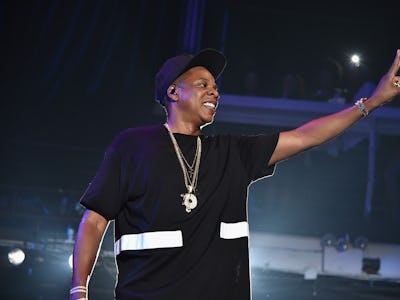 Theo Wargo, Getty Images 
Every year there is a new batch of books created for the 33 1/3 series. Usually the books stick to classics and standards of indie and classic rock (If your past stretches beyond guitars and someone holding a guitar you might be disappointed by the selection provided.) At Inverse we are not quite so close-minded about potential music books, so here are a few rap albums that we feel deserve a book in their memory.
Jay-Z - 'Reasonable Doubt'
A full generation ago, Jay-Z was just another New York rapper. Admittedly one with a hyped debut album and pension for myth building, but in the early and mid '90s that was nearly every rapper from the five boroughs. Though there is much handwringing about Jay-Z's tension between his rap days and his business venture, it'd be nice to see a book approach Jay when he was a rapper, not a businessman.
Lil Wayne - 'Dedication II'
Nearly 10 years old, Dedication 2 still stands as one of Lil Wayne's most complete projects. With the proliferation of streaming media replacing MP3s, the way to listen to music and mixtapes like this can easily be forgotten. Lil Wayne was knee deep in a lean phase and was at this point experiencing one of the best rap runs of the 2000s. If there is one mixtape to capture 2000s mixtape culture it'd be hard to find a better candidate than this one.
Nicki Minaj - 'Pink Friday II: Roman's Revenge'
Nicki Minaj's second album Pink Friday II: Roman's Revenge received a split reaction from fans that weren't sure how to deal with the split personalities she chose to embody. Though a slightly odd choice for the 33 1/3 treatment, there is an entire industry of opinions around Nicki Minaj that deserves more than a 700 word, in-and-out think piece. The Barbz deserves better.
Waka Flocka Flame - 'Flockaveli'
Flockaveli was a classic. It gave the world Lex Luger. It gave the world some of the greatest SQUUUUUAAAADDD adlibs and for that we'll forever be in debt. But for 33 1/3, the question to ponder is what exactly was Waka Flocka supposed to do after that album. His switched up styles, tried to go pop, tried to be a real rapper, but he was never able to connect in the same way. He played the game right and appeared to have played himself right out of relevancy at the same time.
Rae Sremmurd - 'Sremmlife'
I'll admit to be 2000-and-late to the Sremmlife, but when an album features these two songs back to back, there needs to be at least 400 words really digging into "Up Like Trump."