Bieber, Skrillex, and Diplo: How the Best Song of the Year Was Made
An interactive video walks you through "Where Are Ü Now."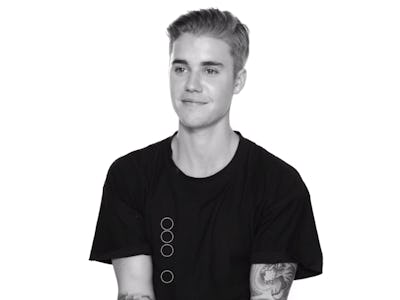 As mechanical breakdowns of pop songs get more and more common, elements of the particular song can get lost in these discussions of architecture. But in some cases, they can actually add to the magic; take for instance, Ariel Rechtshaid's breakdown of Bieber's hit "Thought Of You"; you hear the song in a new way, thanks to Rechtshaid's guide, and it adds to its appeal.
Now, the Times has put out a slick interactive feature about the making of Bieber, Diplo, and Skrillex's platinum hit "Where Are Ü Now," featuring interviews with the principals. (You can watch it here.) For someone who is a sucker for this kind of shit, it's a thrilling document of how this unexpected masterpiece came together; from Skrillex's breakdown of how he can make degraded sounds an asset to Diplo's accessible walkthrough of how the song was programmed and sampled, it's an essential window into how the process can yield something special. It's an important document for those interested in electronic music, also.
There are many unexpected elements, sure — Bieber stops himself midway through the video to express just how unexpected this collaboration was — but "Where Are Ü Now" shows you what the modern process (aka, e-mailing each other and bouncing off ideas, as opposed to everyone getting in the studio together) can bring.