Blue Marvel Replaces Superman on the Sufjan Stevens 'Illinois' Reissue
The superhero, created in 2008, takes over for that other guy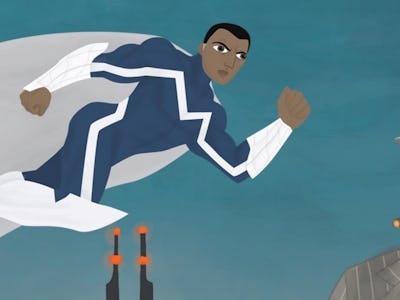 Asthmatic Kitty
Earlier this year, singer-songwriter Sufjan Stevens' indie classic Illinois turned 10. Its original cover featured Superman, who hailed from Metropolis, Illinois, according to the comic.
However, Stevens' label, Asthmatic Kitty, opted to remove Superman from future pressings after its lawyers met with DC Comics. So for the reissue, they've chosen to replace the (supremely boring and eternally overrated) superhero with Marvel's Blue Marvel, a superhero created in 2008 touting Superman-esque abilities and hailing from Chicago. From Asthmatic Kitty's press release:
"In 2005 Sufjan Stevens released Illinois, his fourth album and the second in his 50-state project. Sufjan fans with long memories might recall a minor hiccup in our release of Illinois as it related to the inclusion of a certain Metropolis-born man of steel.
While we do love balloons, we've always missed the imminent presence Big Blue brought to the album's cover art, short-lived though it was. But things are very different in 2015 than they were in 2005, and different times call for different heroes.
So today, exactly ten years after we released the double LP of Illinois, we're proud to announce a special 10th anniversary edition of the LP that includes Chicago-born Blue Marvel on the cover.
The double LP will include an "Antimatter Blue" and "Cape White" vinyl colors. The audio for the special edition comes from a 2014 remastered version of Illinois. We commissioned children's book artist and the original Illinois cover artist Divya Srinivasan to portray Blue Marvel in the style of the original art. We're pressing 10,000 double LPs of this edition. And we might include an extra surprise so stay tuned.
Big thanks to everyone at Marvel for giving us permission to feature Blue Marvel."
Here's another pic of the reissue, which will feature blue-and-white vinyl:
I asked our comics expert Eric about whether Blue Marvel was based on President Obama — African-American, debuted in 2008, from Chicago — but he informed me that Obama already exists in the Marvel universe. The more you know.