Listening to Sufjan Stevens' 'Illinois' 10 Years Later
Indie rock's moment, revisited.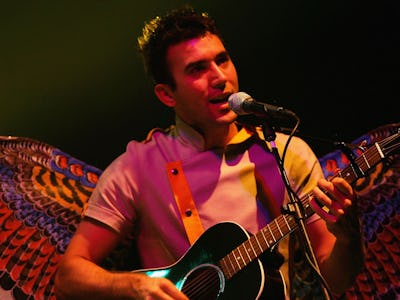 No matter how you paint it, the years surrounding 2005 belonged to indie rock. Once a small, burgeoning scene with a fringe fanbase, many of its signature acts — say, Death Cab for Cutie — had ascended to bigger stages, including the one in Saturday Night Live's Studio 8H. The vinyl revival was beginning in earnest and indie rock's biggest labels were latching onto it hard, pioneering an aesthetic that is still filling up racks at Urban Outfitters. Given that indie rock has been pushed away from the mainstream by EDM, rap, and country, it's a hell of a thought exercise to remember a time when one luminary's backing band launched [multiple](https://en.wikipedia.org/wiki/St.Vincent(musician) prominent careers.
Those were the days.
As with any musical era, the mid-aughts produced some records that will stand the test of time and others that won't. Previously unheralded gems will continue to be unearthed for years and years to come while what was poppin' for a minute there will be forgotten. That's what makes something like Sufjan Steven's Illinois so striking — it's unglued to time. Released 10 years ago this week, most of its message is still resonant.
Forged amid a media stunt where the studious and solemn New York musician Sufjan Stevens claimed he would record a concept album for every state — previously he had released 2003's Michigan, and no state-based album ever followed Illinois — Illinois was improbably one of the highest profile records of the year and topped indie rock tastemaker Pitchfork's year-end albums list. Illinois took the folk-laden arrangements of Michigan and made them more robust — more voices, both real and instrumental, chime in to Steven's Illinois history collage. Though some sentiments feel kind of empty and corny now — like the serial killer ballad "John Wayne Gacy, Jr." — Illinois' highlights ("Chicago", "Casimir Pulaski") stand even if the humble, twee-ful style that defines them has fallen by the co-opted wayside.
As a college radio DJ in the early '00s, I heard Illinois a lot and never tired of its gems, which is saying a lot because I got tired of almost everything we had on rotation. (I still can't listen to anything by Pedro the Lion). Though Illinois is filled with flowery arrangements that may distract from the songwriter at the core — not to mention the lively tour show, which featured Stevens in a bird costume and his band in cheerleader outfits — a serious talent was at hand, one who has made a fruitful and memorable career of rethinking his approach to songwriting. Illinois is the base of what grew to be a great career, but also an unwitting symbol of an entire era's peak.
The record, front to back, is a pleasant listen now even though it zips me back to synthetic caffeine-fueled early mornings at the Shack. But "Casimir Pulaski Day," the record's emotional core, is still as cutting as ever; it's a clinic of Stevens' sparest, most effective songwriting. Here's how it starts:
Goldenrod and the 4H stone
The things I brought you
When I found out you had cancer of the bone
Your father cried on the telephone
And he drove his car into the Navy yard
Just to prove that he was sorry
It's gutting stuff, one of the best written songs in the past 20 years and far better than anything the goose-voiced Neutral Milk Hotel dude ever did. Sufjan Stevens, in 2005, took indie rock further than it had ever gone. But he never got out of Illinois.