Are Locked-Room Mysteries Trending?
'And Then There Were None' and 'The Hateful Eight' deal with crimes that seem impossible to commit or solve.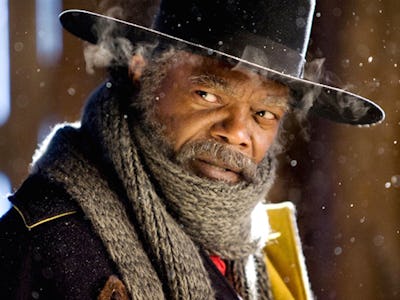 The Weinstein Company
The locked-room mystery, satirized by the cult classic Clue and celebrated by a slew of Masterpiece Theatre episodes, seems to be making a big resurgence this season in notable and high-profile ways. The sub-genre is defined by crimes committed that seem impossible to solve. Often the murderer appears to have vanished in midair. The viewer is never sitting there 10 minutes in, eyes rolling, chip halfway to their mouth, saying, "I know whodunit."
The BBC1 miniseries released just tonight to British audiences alone, And Then There Were None, is a classic representation of this type of mystery. You may have read the Agatha Christie novel as a teenager and realized it was one of the most titillating mysteries of all time, but this adaptation adds in some edgier elements, like drugs and violence. All eight people are trapped on an island where they are accused of crimes for which they must pay. The second and third episodes air Sunday and Monday of this week.
Quentin Tarantino's The Hateful Eight had a solid opening day, raking in $1.9 million this Christmas. Set to an Ennio Morricone's score, this Western fits the locked-room mystery mold. There's eight not-so-nice people snowed in at a sinister Wyoming cabin just after the Civil War. The New York Times calls it, "structurally speaking, an Agatha Christie mystery… that ends in geysers of blood." Geysers? Now that's a lot of fluid.
If you haven't been watching Marvel's Jessica Jones, which offers up plenty of gore and excitement, you should probably jump on that crazy-strong Netflix train. Jones is a killing machine private investigator and sometimes superhero. The show isn't structured exactly like a proper locked-room mystery, but the claustrophobia it induces and questions raised make it definitely feel like it fits in the sub-genre. In fact, episode 9, "AKA Sin Bin," involves an actual locked-room. Mind-controlling villain Killgrave is captured in a soundproof, hermetically-sealed chamber. Only in this prison are his powers of control rendered useless. Does he escape? Well, you'll just have to log in to find out. No spoilers here.
Maybe after years of exploiting the horrors of otherworldly beasts, like zombies and vampires, there's a creative return to good old fashioned evil people as antiheroes. The cruelty within us regular folks is translated loud and clear in these locked-room mysteries, without the guise of any fangs, fur, or melted cheeks. And you get to use your noggin a little more, for both clue-catching and head-scratching.