'Star Wars: The Force Awakens' Broke Records at the Box Office This Weekend
'Star Wars: The Force Awakens' had an incredible first weekend at the box office.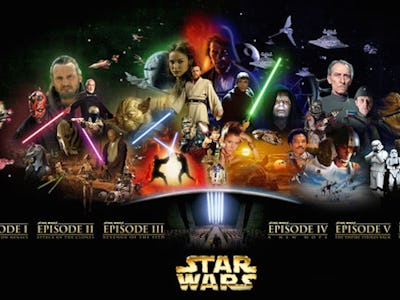 The force was strong this weekend at the box office. You could almost say that it awoke many a movie-goer's interest in emptying their wallets at the theater.
Star Wars: The Force Awakens almost made up the $350 million it cost Disney to pay for its creation and marketing with a record-breaking opening domestic weekend. Just last week, we reported that the film was Fandango's best-selling movie ever, so this should be a surprise to no one.
It also beat out Jurassic World, which, earlier this year, racked up $208.8 million in domestic box office sales. And that accounts for inflation.
What's that you ask? How much money did this first of five new Star Wars movies make in just its first three days? A whopping $238 million is how much. If you add in $57 million in Thursday night "previews," and another $279 million internationally, it amounts to $517 million, a massive payout.
It set a bunch of other records, like the largest Friday, opening, and single days according to Box Office Mojo. The New York Times reports that 47 percent of the gross earnings came from 3D screenings. And, interestingly enough, the crowd was pretty diverse, About 58 percent of the audience was male. About 63 percent of the audience was 26 or older."
A good weekend this was for The Force Awakens and Star Wars fans alike.