Pandora Will Lose Money If It Doesn't Improve Its Premium Streaming Options
A new ruling has increased the rate of streaming, and it affects Spotify, Tidal, and others, too.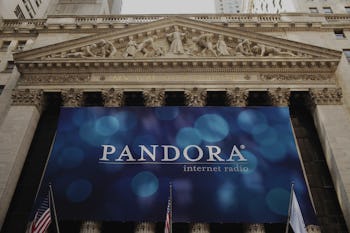 Spencer Platt/Getty Images
Internet radio services like Pandora are able to provide free music because they pay the government expensive licensing rates for songs' rights. On December 16, the United States Copyright Royalty Board — a three-judge panel that decides the rates every five years — increased the cost of licensing for companies like Pandora.
Prior to this week's ruling, the licensing rate was $0.0014. The CRB wanted it to increase to $0.0025 for internet services to stream a single song, while Pandora wanted it lowered to $0.0011. They decided to meet in the middle at the new rate of $0.0017. That rate, however, is for Pandora's free, advertisement-backed radio service. The less popular subscription model actually had its rates lowered from $0.0023 to $0.0022.
While those numbers look astonishingly small — because they are, but they add up on millions and millions of streams — it's a potentially serious blow to Pandora. Last year, according to Quartz, the service spent $446 million on streaming rights, which was 48 percent of its total revenue ($921 million).
Based on how much it spent on streaming in 2014 and the previous rate, we can extrapolate that Pandora paid for approximately 318.6 billion single-song streams. If the new rate were applied to the 2014 statistics, that would mean Pandora would have instead paid $541.6 million to the government. With the possibility of spending literally hundreds of millions of dollars more annually, the question remains, how will Pandora adapt to the new changes?
For one, Pandora will have to decide whether it wants to remain a strictly radio platform. It's a status that keeps it tied to the government, able to avoid dealings with more self-interested record labels. It also allows for otherwise streaming-restricted content — like Adele's 25 — to be made available because users cannot pick what they want to hear song-by-song.
Pandora may have to work hard at convincing listeners to subscribe to a premium streaming service. CEO Brian McAndrews, in fact, recently stated that the company's goal is to eventually offer "full on-demand paid subscription." And despite acquiring the recently shuttered Rdio — a service similar to Apple Music and Spotify — it would need to find a way to stand out in an increasingly crowded field.
The traditional streaming services (chiefly Spotify, Apple Music, and Tidal) remain unaffected by the Copyright Board's decision. They don't pay the government but rather the labels and artists directly for greater access to their catalogs.
As it stands, Spotify is the popular streaming option. It's familiar and has loyal customers who've been using the service since 2008. Apple Music is the newcomer, looking to shake things up with exclusives and celebrity endorsements and appearances. Tidal doesn't matter.
Pandora, in turn, would have to hang its hat on its history as a reliable curator. There are plenty of work-friendly stations, for instance, and most coffee shops playing something seemingly out of the blue probably has a Pandora station rolling. It's the service for music lovers who don't have the time or patience to discover.
If Pandora were to offer a premium option, it would have to include features such as picking stations based on specific, even obscure, songs. It may also need the traditional storage library for on-the-go listening, something that's nearly a requirement for customers to bother purchasing.
Currently, Pandora's paid option — Pandora One — simply cuts out the ads with few other bonuses. In order for the platform to continue succeeding and actually make money in a $0.0017 world, it'll need to beef up the offerings. Pandora is already a strong brand name. Add some necessary bells and whistles, and it's likely that customers will be interested in paying more to get more.