Here Are 5 Work-Friendly Pandora Stations You Can Play at the Office
Having a hard time finding music on which you and your co-workers can agree? We got you.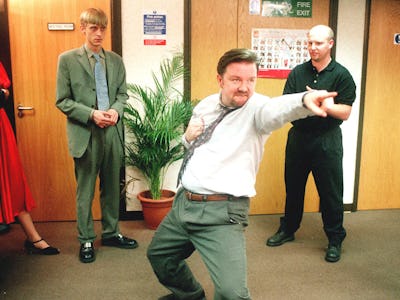 Crafting a non-crappy, office-friendly Pandora station is a tough task. That's why I've sifted through every artist, album, and song imaginable to offer you these pre-programmed Pandora stations — an entire week's worth that the whole office can agree upon, unless you work in the "I'm not arguing that with you" office from the opening of Joe Versus the Volcano. Then you and your brain cloud are on your own.
Reminder: Depending on your work situation, consider enabling Pandora's explicit filter. Don't be that guy because Truffle Butter started playing just as the boss' grand-kids came to visit.
Monday
Easily the most important playlist to select. Nobody likes coming to work on Mondays and this is your opportunity to help set a positive tone for the rest of the week. Your Monday Pandora station must be fire; help your co-workers cure their case of the Mondays with a mix of some down-South hip-hop, soul, and funk. They'll thank you for it.
Foundation: Missy Elliot. You can't stay in a bad mood with Missy Elliot coming through your speakers. Don't argue, it's scientific fact.
Coming Back from a Three-Day Weekend Remix: Kick up the crunk quotient and improve productivity exponentially with some Lil' John and Crucial Conflict.
Additions: Toss in Outkast to let Pandora know you're serious about kicking Monday's ass. Then back that up with some James Brown, because James Brown. Add in Rufus featuring Chaka Kahn. Ohio Players will bring that nasty, somebody-just-microwaved-fish-in-the-lunchroom type funk.
Tuesday
Foundation: Start with a classic rock band of your choice. I prefer Hendrix or Zeppelin here, but you do you.
After your very successful musical Monday, it's good to go a little eclectic here. Tuesday is a grab bag of a day anyway — keep it upbeat, and have a little fun with it.
Additions: Add French-Chilean MC Ana Tijoux for a little trip-hop flair, followed by Hanni El Khatib because that dude goes mad hard. Smooth that out with The Meters' brand of New Orleans funk. Then for the cherry on top, add Michael Jackson and sit back and listen in amazement to the music Pandora starts pumping into your earballs.
Get (more) weird: Troll the shit out of Pandora and throw in Tom Jones. Yeah, that Tom Jones. Don't fight me on this. Anyone complains, just retort with the title of this song.
If your office doesn't spontaneously break out into a "Carlton" flash mob at least twice, your co-workers are terrible people and you should find a new job immediately.
Wednesday
The best way to counteract the midweek doldrums is to get some asses shaking. Of course those shaking asses should remain in their respective office chairs because we're all totes into being productive and stuff.
Foundation: Type in Got to Give it Up and let Pandora start working its magic. Marvin Gaye was an undisputed genius, but choose this song in particular, because some of his stuff is a little on the slow side. Got To Give It Up represents the pinnacle of late '70s Motown, and is guaranteed to get toes tapping.
Additions: Janelle Monae and her Wonderland crew float across all kinds of genres but pairing them with Got to Give It Up will add some bangers to the mix. Pharrell plays well in this mix, and I triple-dog-dare you to stay still while listening to the undisputed Queen of Salsa, Celia Cruz.
With a Twist: Get over the hump day blues by adding Pitbull and Sean Paul and turn the office into a full on Zumba class. It will get your co-workers dancing or possibly they will chase you around the building in an attempt to set you on fire. Either way, it's guaranteed to get everyone's blood flowing.
Thursday
Show your co-workers you really care about their auditory well-being and give them a juke-joint inspired station this Thursday.
Foundation: Hit your your office mates with some old school R&B/Rock n' Roll and start a Fats Domino station.
Additions: Ray Charles is a no-brainer here. R.L. Burnside brings a great fusion of Mississippi blues, funk, with a bit of an old school hip-hop flavor. The Alabama Shakes will bring some neo-soul infused rock, while St. Paul and The Broken Bones bring a funky gospel sound that will round out the list nicely.
Style Points: Show your co-workers you're classy as fuck by adding some ragtime and early blues influences a la Jelly Roll Morton.
Friday
It's Friday, Friday, gotta get down on Fri…Sorry, couldn't resist. Anyway, finish up the week the right way with a Pandora station everybody (even the creepy IT guy) can get into.
Foundation: Bob Marley. No explanation needed.
Additions: Do everyone a favor and pair Bob with Al Green. Then toss in Bill Withers, Joe Cocker, and the Wu Tang Clan because you're for the children. Add Rick James, because Fridays are a celebration, and then drop in some Flogging Molly, because why in the hell wouldn't you?
No Prince, No Problem: Pandora and The Purple One still haven't reconciled their differences, but you can still give your office the gift of Morris Day.