'Arrow' Winter Finale Throws Smoak at Death
Relax, it's not a spoiler. 'Arrow' is just toying with its audience.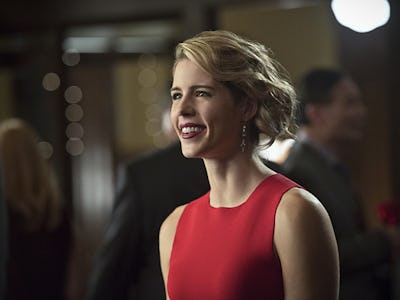 The CW Networks
Television in 2015, summed up: It has a death fetish. Game of Thrones, The Walking Dead, and Arrow, multiple times. "Dark Waters," the last Arrow until mid-January, revisited its promise of someone's — likely Felicity Smoak's —demise from the fourth season premiere back in early fall. Yet, TV's death swerves this year (Hey Glenn! Hey Jon Snow!), not to mention Arrow's own plot, have conditioned us that it could very well not be Felicity at all. If one can expect unexpected swerves, are they really swerves at all?
In short, Arrow is being painfully muddy. When I covered the premiere episode "Green Arrow," I wrote that the cinematic language made it clear Oliver was mourning at Felicity's grave, and that they didn't need to show whose name was engraved. But now it's three months later (and it is three months in Arrow time, thanks to expositional dialogue) and I'm dealing with the uncomfortable reality that I, infallible that I am, was totally wrong. I hate being wrong.
I'm not wrong about just Felicity either. Way off-course from what I predicted about the Star City mayoral election, "Dark Waters" has Oliver oust Darhk as public enemy numero uno after Darhk sends an attack drone at a volunteer charity event by the Queen campaign to clean Star City Bay, which Darhk needs for an operation.
Speaking honestly as a viewer, it's an uncomfortable moment in Arrow. I have no problem with art commenting on reality, it just gets awkward when the timing is close.
But, our beloved Felicity Smoak! She finishes 2015 lying bloody from a hit by Damien Darhk in an obvious The Godfather homage, but she can't be dead. Taking cues from The Walking Dead, Arrow abruptly cut to credits, framing the shock ending as a typical TV cliffhanger. Wanna know what happens next? Tune in January 20!
If — and that's a big fat if — Felicity is dead, how does the rest of the narrative line up? There will be three months to fill. Does she slip into a coma (it's television, comas are hot) and anti-climactically die after three months? Could she actually be fine only to end up really dead by Damien Darhk, who wants to "finish the job"? (That's probably going to happen to Glenn on that other show, BTW.) Or just maybe, it's not Felicity at all. Even the show's actors don't know whose grave it was during filming, so maybe all bets are off.
Resurrection and time-travel are not options for Whoever It Is. The Lazarus Pit is destroyed, Constantine isn't coming back, and Barry can barely control his time-jumping. So death is final once again in the Arrowverse, it's just anyone's guess whose death it shall be.
Arrow will return January 20th on The CW.