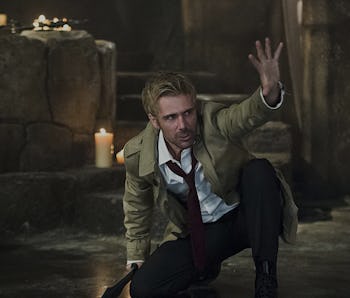 Entertainment
Will Constantine Be in 'Arrow' Again?
'Arrow' executive producer Marc Guggenheim reveals the answer.
The CW Networks
This week's Arrow welcomed John Constantine. DC's chain-smoking exorcist (who didn't smoke a single cigarette, now that I recall) and anti-hero of NBC's cancelled Constantine is now a part of the Arrowverse. With the flexible nature of modern superhero TV, could Constantine fans see Matt Ryan as the English exorcist in Star City again?
According to Arrow executive producer Marc Guggenheim: No.
"There's no plans. This was always designed to be a one off," he said in an interview with Deadline. In fact, actor Matt Ryan's current gig on Broadway made it hard enough for Constantine to hang out in Arrow. "The play created a variety of scheduling challenges and believe it or not it was starting to look as if we wouldn't be able to get him or we would only be able to get him for a day. It definitely posed a challenge."
But all it took was a little reshuffling to get Matt Ryan for as long as they wanted, shooting his appearance in episode five ("Haunted") sooner than episode four (the incredible "Beyond Redemption").
Of course, Guggenheim could be referring to at the moment. As I wrote last week, should "Haunted" be a ratings killer it could be a good omen (if there is such a thing) for Constantine's own resurrection.