Yes, 'Supergirl' Can Cross Over With 'Arrow' and 'The Flash.' But Will She?
Television has just welcomed its newest DC superhero. But will she fly solo for long?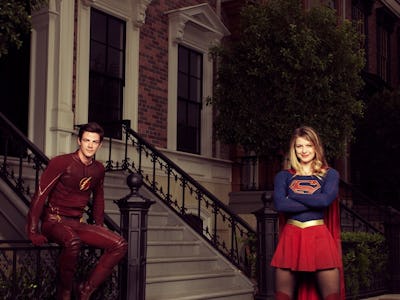 Variety
Supergirl has successfully joined the Green Arrow and the Flash in the jump from DC comic books to TV. And because it's 2015, fans are speculating whether or not Kara Danvers will get to fight with or exchange witty banter with Oliver Queen and/or Barry Allen. Turns out, she can! Will she, is the real question.
In a roundtable interview between the producers of Arrow and Marvel's Agent Carter, The Hollywood Reporter revealed that Supergirl producer Greg Berlanti, who also oversees The Flash and Arrow, worked into the show's development that CBS' newest super-heroine can cross over with the CW's roster of superheroes.
But it might be too soon for Supergirl, which just premiered Monday. Through various interviews over the summer, the producers and CBS expressed little interest in crossovers, favoring effort into building a show with its own identity rather than joining a crowded party.
"The network has said publicly at this point they're going to keep her to themselves," said producer Greg Berlanti at the CW's upfront presentation last May. "I would love to see (a crossover). I think in success, all things are possible. But there's a lot that would have to happen before everybody might say yes to that."
At the Television Critics Association press tour in August, CBS president Nina Tassler reasoned: "If you're in another setting, you really have to be respectful and mindful of what each universe says you can and can't do. Obviously, we're working very closely with DC and our producers and Greg Berlanti is sort of the poster child for this field, so I'm just saying right now we're not doing it."
But just because a crossover isn't being planned right this second doesn't mean it's out of the question. Said producer Andrew Kreisberg in an interview with TheWrap: "Down the line, if that's what the fans want and what the brass want as well, then we'll fly over that bridge when we get there."
This season on Arrow, John Constantine from NBC's short-lived Constantine will join up with Oliver Queen for one episode. A second batch of The Flash/Arrow team-up episodes will also take place, which will lead into the mega-crossover Legends of Tomorrow mini-series which will air during mid-season hiatus.