'Constantine' Will Live on in 'Arrow' This Fall
Nothing stops the chain-smoking mage. Not even cancellation.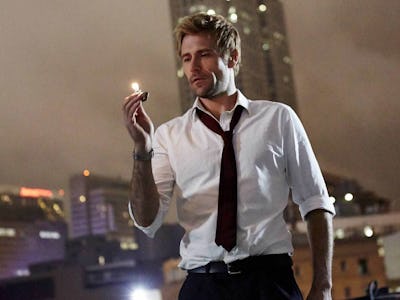 DC Comics
For all its faults, Constantine was beloved by many. But love couldn't prevent the show's cancellation earlier this year. If you know John Constantine, you should know never to count the bastard out.
Constantine lives, and he's coming to Arrow on the CW this fall.
The DC TV universe just got bigger.
Despite Constantine airing on NBC unlike every other DC Comics series, crossovers between series are within the realm of possibility. Arrow star Stephen Amell even publicly offered to guest star in Constantine's second season back when the petitioning of the show's renewal had hit a fever pitch.
In a bizarre way, this return of John Constantine runs parallel to the hero's essence. Constantine isn't a superhero — he's a magician (who's not even great at that), working and and dwelling in the fringes. His own comic book debut was as a guest in Swamp Thing, helping the titular abomination harness his powers.
Not many characters in fiction can find new life in someone else's story. Not many are capable of cheating death. For John Constantine, cheating death is just a Tuesday.