6 video game mods that let you drive Tesla's fugly Cybertruck right now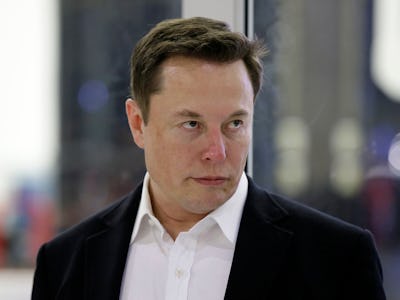 Alex Gallardo/AP/Shutterstock
Elon Musk shocked the automative industry and inadvertently started a video game mod frenzy with his Blade Runner-inspired Tesla Cybertruck. Its polarizing, boxy design has been compared to vehicles found in mid-90s video games, and modders have wasted no time making that a reality.
Tesla's low-poly pickup truck has already been added to some of the world's most popular online games, from Grand Theft Auto 5 to Minecraft. Demos showing models of the metal trapezoid have popped up across YouTube and Reddit, garnering thousands of views and upvotes since Musk's November 21 announcement.
Cybertruck won't hit the road for another few years, but PC gamers will get a chance to (digitally) test-drive Tesla's polygonal monstrosity on the streets of Los Santos.
Cybertruck in Grand Theft Auto 5
GTA 5 houses some of the cleanest-looking Cybertruck mods we've seen so far. YouTube channel Fred Walkthrough has created by far the most true-to-life Cybertruck to date. The mod could easily pass as a vehicle out of the upcoming Cyberpunk 2077 with its working lights and its glistening metal frame. Fred Walkthrough has not shared a link to download the car's assets.
YouTube channel Elite Rejects also showed off a slightly more basic test model of another Cybertruck GTA 5 mod. While this one doesn't include working lights and textures are washed out, it comes with a red color variant that the actual car won't come in.
There's no download link for the mod Elite Rejects tested either, but we expect creators to release them once they fine-tune their designs. But there are plenty of other games where you can take Cybertruck for a test spin right now.
Cybertruck in Minecraft
Minecraft YouTuber VelVoxel Raptor made a drivable model of the Cybertruck for the sandbox game. It's not as flashy as the GTA 5 mods, but the car's Lego-esque makes it perfectly suited for the world of Minecraft.
The mod is touted to be "indestructible" too, which is more than Musk can say about the actual Cybertruck. VelVoxel demonstrated that even multiple stacks of in-game dynamite couldn't put a dent in the blocky pickup.
The mod can be downloaded and imported to PC versions of the game. YouTuber OMGcraft posted a tutorial of how to download and install the mod if you need help getting started.
Cybertruck in Rocket League
Fans of the competitive soccer-racing hybrid Rocket League were also quick to roll out a Cybertruck skin. Modder Platypun tweeted a video of their Cybertruck design skidding across the Rocket League arena, but have yet to share a download link.
The game's community is so eager to include the new Tesla as a playable vehicle that fan Nikki Luzader petitioned Musk to add Cybertruck as a DLC skin. It has amassed more than 2,000 signatures as of Monday.
"Please sign this petition and fight to put it in the hands of the man with the plan himself," reads the Change.org page. "He will do it for us. He will do it for the memes. He will do it because he is the one and only: Elon Musk."
Musk has talked about his love for video games in the past, so this isn't totally out of the realm of possibility.
Cybertruck in Goldeneye 007
No other mod is truer to the Cybertruck's low-poly aesthetic than the Goldeneye 007 version of the the Tesla on a Nintendo 64 emulator, made by YouTuber Graslu00. The mod is a complete level for the James Bond game that even includes an Elon Musk cameo with custom dialogue. It can be downloaded right now, plus Graslu00 has also made a tutorial of how to get Goldeneye 007 working on a PC.
This is the grainiest version of Cybertruck out there, but there's nothing that quite encapsulates the old-school video game memes the Tesla's announcements generated like this.
Cybertruck in Garry' Mod
Players of the physics sandbox game Garry's Mod or GMod have also created a drivable version of Cybertruck. A download link has yet to be released, but the model's interior comes with Tesla's signature in-car-table for added realism.
Cybertruck in Stormworks
Finally, Tesla's latest has also made made it into Stormworks, a simulation game that lets gamers loose in randomly generated physics playgrounds. YouTuber SpyCakes made a video showing off the model's extremely fitting toy-car look that also includes working lights and a battery-powered engine.
The YouTuber takes the Cybertruck underwater, which definitely won't be a feature of the IRL Cybertruck, even though it kind of looks like a deformed torpedo.