'Black Panther 2' title leak may reveal a new Marvel Phase 5 villain
Doctor Doom or Namor? There's a strong argument to be made for each of them.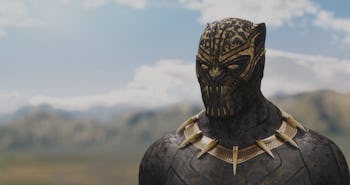 Marvel Entertainment
Real quick: What's a seven-letter title for Black Panther 2? Whatever you come up with, that might hint at the antagonist in Black Panther's next movie in the Marvel Cinematic Universe.
On Tuesday, popular Marvel scooper Charles Murphy shared an updated list of Marvel release dates through 2023, most of which we already knew about. However, Charles Murphy noted that Black Panther 2, hitting theaters 2022, will have a subtitle that is unknown or yet to be revealed. The only hint Murphy gave was seven blank spaces, inspiring fans to speculate what Marvel Comics storylines have seven-letters and involve to Black Panther.
Although Murphy may have just chosen seven spaces at random, that's not stopping fans from using that as a basis of speculation. This has led them to two possibilities: Doctor Doom, or Namor.
How Black Panther 2's title may reveal Doctor Doom
If we're being serious about the seven-letter titles, one glaring possibility for Black Panther 2 is Doomwar. In 2010, writer Jonathan Maberry and artists Scot Eaton created a six-issue miniseries in which Doctor Doom attempts to overthrow T'Challa's family as rulers of Wakanda by capitalizing on the country's depleted Vibranium reserves. Famed X-Men member Storm faces execution, and everyone from the Fantastic Four to Deadpool plays a role in Doomwar.
The status of the Fantastic Four in the MCU is unclear. We know a movie is on the way, something Marvel Studios chairman Kevin Feige confirmed at San Diego Comic-Con while being maddeningly coy over the details. But because a Fantastic Four movie where Doctor Doom is the villain is too familiar even for casual moviegoers, introducing Doom through a Black Panther movie creates a different dynamic than what people have seen before.
Could it happen? Sure. Is this confirmation? Far from it. In fact, a second possibility seems even more likely.
How Black Panther 2's title may reveal Namor
There's still one unresolved mystery left over from Avengers: Endgame: The matter of those strange, underwater earthquakes beneath the African plate. The issue was dismissed by Okoye (Danai Gurira), who told a curious Natasha, "We handle it by not handling it."
That might come back to bite them, because "underwater earthquakes" could mean one important Marvel anti-hero: Namor the Sub-Mariner, a character with a long history with Black Panther. As we've explained before, Namor is an Atlantean from the Marvel Universe who has attacked Wakanda several times, including drowning it during the events of Avengers vs. X-Men.
As some fans speculate on Twitter, words like "Invader" (in World War II, Namor was part of the "Invaders" with Captain America and the first Human Torch), "Royalty," and "Drowned" perfectly fit the seven blank letters as well as fit the role of Namor, a royal invader with the power of the ocean. And all those speculative titles wouldn't wholly reflect a lone comic storyline, an approach Marvel Studios has taken to Phase Four with unique, pulpy titles like "Legend of the Ten Rings" and "Multiverse of Madness," as opposed to previous subtitles based on comics like "Civil War" and "Age of Ultron."
Black Panther 2 claws its way into theaters on May 6, 2022.